***Haga clic aquí para la versión española***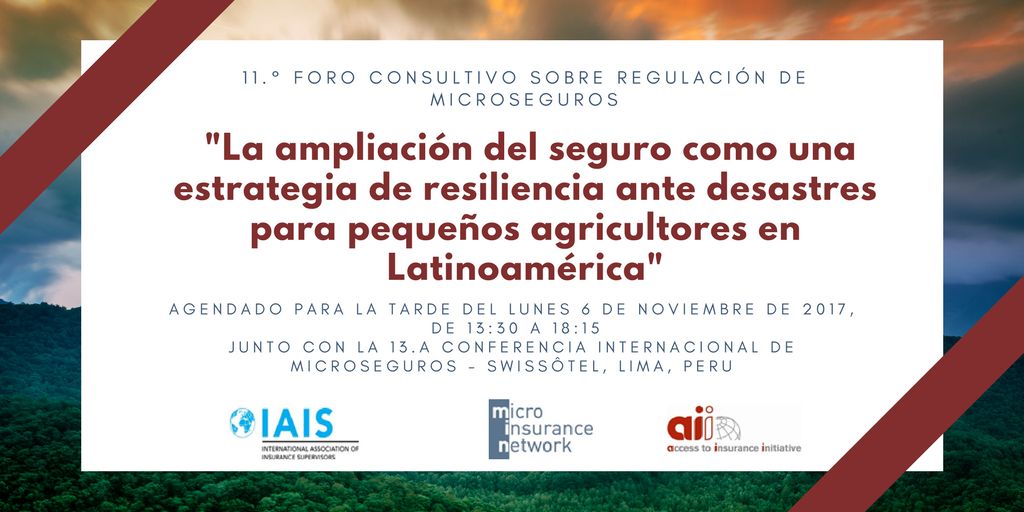 The International Association of Insurance Supervisors (IAIS), the Microinsurance Network (MIN) and the Access to Insurance Initiative (A2ii) are pleased to invite you to the 11th Consultative Forum on "Scaling up insurance as a disaster resilience strategy for smallholder farmers in Latin America".
This Forum will discuss issues related to scaling up agricultural insurance including developing proportionate regulatory frameworks to support the insurance business on one hand, and to protect the consumer rights of smallholder farmers on the other. It will explore how various stakeholders–insurance supervisors, the industry, policymakers, researchers and donors – can cooperate and align their respective roles to achieve sustainability and scale while ensuring fair treatment of this vulnerable segment of the population. This Forum is the third of a three-part series and will build on insights from the Asia Pacific region, based on the 9th Consultative Forum on the same topic, held in Singapore, and from the African Region based on the 10th Consultative Forum held in Uganda earlier this year.
The 11th Consultative Forum will take place alongside the 13th International Microinsurance Conference. It is expected that approximately 60 high-ranking representatives from insurance supervisory authorities, the industry and the public sector will attend the event.
To participate in the Consultative Forum, please register at this link by 20 October 2017
Please download the invitation below
11.° Foro Consultivo sobre Regulación de Microseguros "La ampliación del seguro como una estrategia de resiliencia ante desastres para los pequeños agricultores en Latinoamérica"
La Asociación Internacional de Supervisores de Seguros (IAIS), la Red de Microseguros (MIN-Microinsurance Network) y la Iniciativa de Acceso a los Seguros (A2ii) tienen el placer de invitarle al 11.° Foro Consultivo sobre:
"La ampliación del seguro como una estrategia de resiliencia ante desastres para los pequeños agricultores en Latinoamérica"
El Foro tratará cuestiones relacionadas con la ampliación del seguro agrícola, inclusive sobre el desarrollo de marcos regulatorios proporcionales para, por un lado, apoyar el negocio del seguro y, por otro, proteger los derechos del consumidor de los pequeños agricultores. Analizará como las varias partes interesadas - supervisores de seguros, la industria, formuladores de políticas, investigadores y donantes - pueden cooperar y alinear sus respectivos roles para lograr sostenibilidad y escala a la vez que se asegura un tratamiento justo a ese segmento vulnerable de la población. Este foro es el tercero de una serie de tres partes y se basará en los conocimientos adquiridos sobre la región Asia-Pacífico asentados en el 9.° Foro Consultivo, en Singapur, sobre el mismo tema, y sobre la región africana por el 10.° Foro Consultivo, celebrado en Uganda a principios de este año.
El 11.° Foro Consultivo tendrá lugar junto con la 13.a Conferencia Internacional de Microseguros. Se espera contar con la participación de aproximadamente 60 representantes de alto rango, provenientes de las autoridades de supervisión de seguros, de la industria y del sector público.
Para participar en el Foro Consultivo, regístrese en este enlace antes del 20 de octubre de 2017.
Para bajar la invitación, por favor, haga click en el archivo en español (pdf) abajo
Date:
Monday, 6. November 2017 -

13:15

to

18:15
Knowledge category:
Consultative Forum
Workshops and Seminars
Latin America
Peru
Agricultural and Disaster Risk Insurance