We are pleased to invite you to the Training "Capacity Building for Insurance Supervisors - Leveraging Actuarial Skills" in Indonesia, Jakarta, jointly organised by the International Actuarial Association, the International Association of Insurance Supervisors, the Access to Insurance Initiative and the ASEAN Insurance Training and Research Institute, hosted by OJK Indonesia and funded by the UK Department for International Development.
This is the 3rd of a new series of trainings jointly developed by the A2ii, IAIS and IAA. The first two were held earlier this year for Sub Saharan Africa and the Caribbean regions, in Mauritius and Trinidad & Tobago respectively. The training aims at strengthening the understanding and application of the actuarial concepts and tools needed to support effective insurance supervision and regulation.
The focus and approach of the training will be on teaching principles while making the training as practical and simple as possible. The training will involve a range of techniques such as lecture-based sessions, case studies, break out sessions and quizzes with the intention to make the training as interactive as possible. The syllabus for the training is broken into 4 major components:
Insurance Core Principles
Risk Based Supervision
Using Actuarial Work
Developing Capabilities
Training Program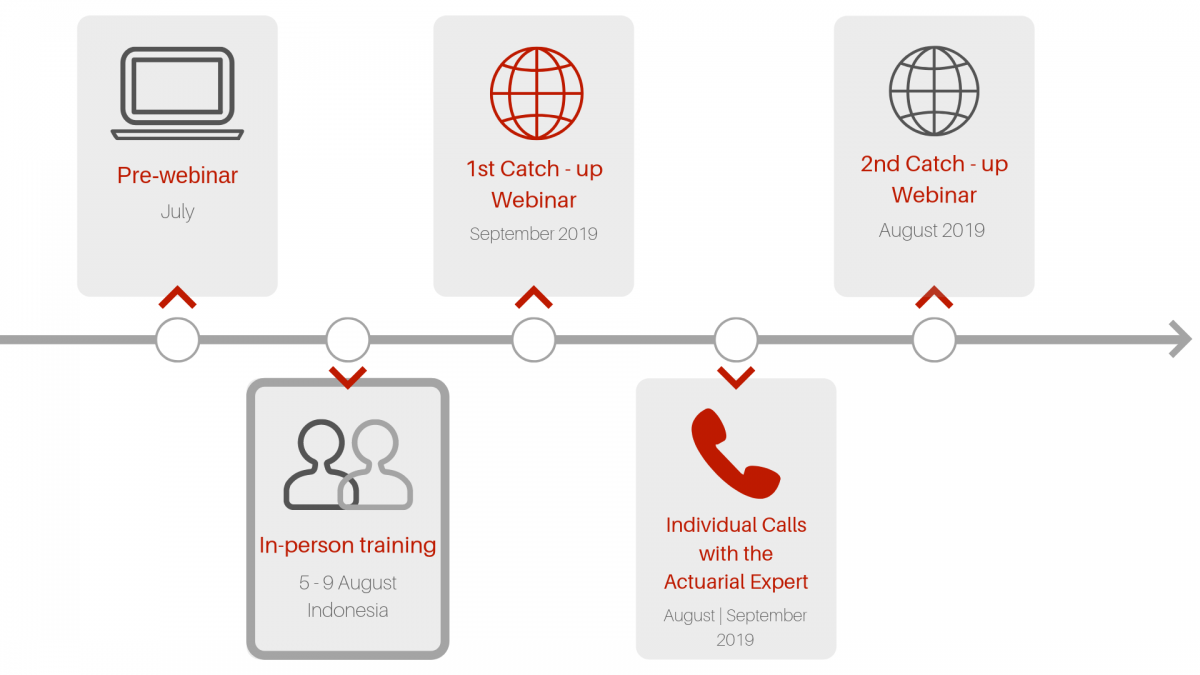 Prior to the training, a survey and pre-webinar will be held to help us better fit the training agenda to your needs and expectations. After the training, there will be 2 follow-up webinars to recap key questions or share practical learnings. There will also be an opportunity for individual calls with the trainers to discuss country-specific issues.
Target Audience
The course targets middle to senior technical staff from Asia Pacific regulatory and supervisory agencies, ideally with a minimum of three years working experience in the insurance industry. The course does not target qualified actuaries, however, participants should have reasonable level of mathematical skills, preferably undergraduate level. Participation is on first-come-first-serve basis, and limited to 2 participants per regulator at this time. We may accept additional participants if there are remaining spaces at a later date.
There is no participation fee for the training. However, participants will have to cover own travel and accommodation.
The course will be held in English.
Deadline: 24 June 2019
Date:
Monday, 5. August 2019 - 10:00

to

Friday, 9. August 2019 - 12:00
Knowledge category:
Workshops and Seminars
Asia and Pacific