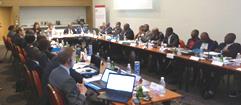 The workshop set the tone for the future collaboration between the different supervisory stakeholders who all agreed on the need for a cross sectoral communication platform to be established.
Regulators worldwide are grappling with the challenge of responding to the unique regulatory and supervisory challenges of mobile insurance. In West and Central Africa, the Inter-African Conference on Insurance Markets (CIMA), the regional insurance regulatory body, plans to publish mobile insurance regulations in the near future. In order to help inform the development of this regulation, CIMA in partnership with the A2ii hosted a workshop that took place from 16-17 May 2016 in Abidjan, Cote D'Ivoire. National insurance regulators, central banking authorities and national telecommunications regulators from the region as well as the insurance body CIMA participated in the workshop.
While participants agreed that mobile insurance offers a significant opportunity to scale-up access to insurance and to make inclusive insurance become a reality, they also highlighted the risks for the consumer including lack of consumer awareness and the potential for mis-selling and inadequate cover. Regulating non-insurance entities involved in the insurance value chain is a major challenge for supervisors. Mobile network operators (MNOs) hold a large client bases that insurers can tap into, but the likelihood of risk is increased due to the involvement of non-insurance entities as well as the number of people affected by these risks. However, as MNOs are critical for driving market development a number of participants highlighted the need for flexibility in the regulation to allow for a test and learn approach however at the same time it was also recognised that measures to protect consumers and mitigate the fallout if schemes are discontinued need to be in place. Cooperation across different regulatory authorities is of central importance.
Date:
Monday, 16. May 2016 - 10:00

to

Tuesday, 17. May 2016 - 18:00
Knowledge category:
Workshops and Seminars
CIMA
Digital Technology