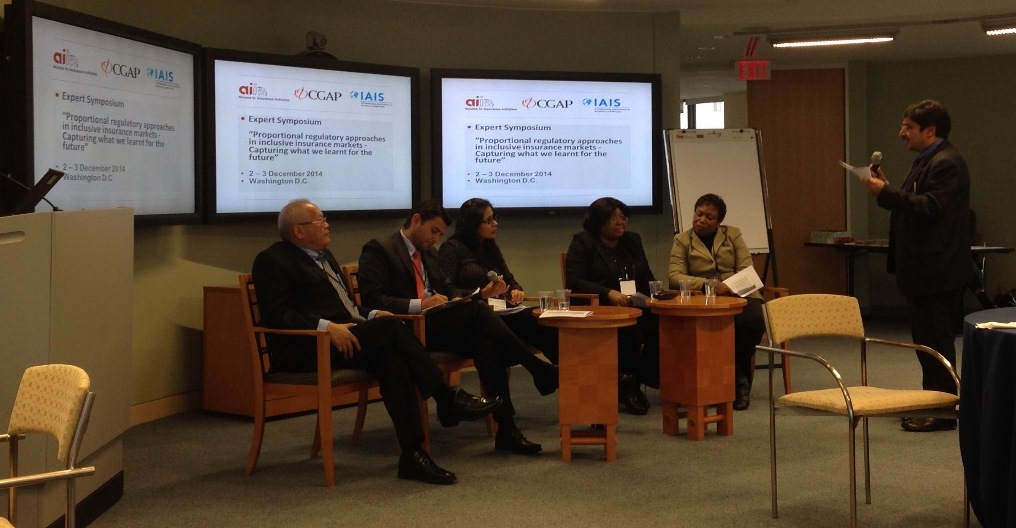 On December 2nd and 3rd, the Access to Insurance Initiative (A2ii), the International Association of Insurance Supervisors (IAIS) and the Consultative Group to Assist the Poor (CGAP) hosted an expert symposium on "Proportional regulatory approaches in inclusive insurance markets – Capturing what we learnt for the future".
Growing markets require proactive and knowledgeable supervisors. Over almost a decade of regulating inclusive insurance markets, important lessons have been learned that need to be shared.

Therefore the A2ii, CGAP and the IAIS have organised a Symposium that brought together regulatory experts, insurance regulators and supervisors and development partners to assess experiences in regulating and supervising access to insurance and advance good practices. The Symposium focused on:

"Proportional regulatory approaches in inclusive insurance markets – Capturing what we learnt for the future"
The symposium took place on December 2nd and 3rd in Washington D.C.
The symposium aimed to distil key lessons from the experience of inclusive insurance regulation and supervision. Supervisors and experts took a close look at the experience from more than 10 years of microinsurance regulation and ask questions, gave answers and generated lessons learned. In particular, they looked at the experience of the pioneering countries, supervisors that are engaged to varying degrees in the regulation and supervision of inclusive insurance markets, with many of them already having a dedicated regulatory framework for microinsurance; specifically Colombia, Ethiopia, Ghana, Philippines, Peru, South Africa and Tanzania.

The lessons and country experiences emerging from the symposium will be summarized and jointly written-up by the organizing partners – the A2ii, IAIS and CGAP – to share with the wider supervisory community. The lessons and subsequent write up will also be submitted to the IAIS to consider in their process.
For further information on the symposium or if you like to be included in our mailing list please contact: secretariat[at]access-to-insurance.org
In anticipation of the Expert Symposium, CGAP is hosting a pre Symposium blog series. Three pioneering insurance supervisors from Ghana, Pakistan and South Africa were asked to share their experience regulating inclusive insurance vis-à-vis the work of the A2ii and the IAIS.
The first blog "Insurance and Financial Inclusion: IAIS and A2ii" from A2ii's Chairman Jonathan Dixon, Deputy Executive Officer Insurance at Financial Services Board South Africa, can be found here
The second blog "Regulating for Inclusive Insurance Markets in Ghana" from Lydia Lariba Bawa, Commissioner of Insurance for the National Insurance Commission in Ghana, can be found here
The third blog "Consumer Protection at the Crux of Takaful Islamic Insurance" from Faraz U. Amjad, Joint Director at the Securities and Exchange Commission of Pakistan (SECP), can be found here
Date:
Tuesday, 2. December 2014 - 8:30

to

Wednesday, 3. December 2014 - 14:00
Knowledge category:
Workshops and Seminars
Inclusive Insurance Regulation
Consumer Protection
Market Development