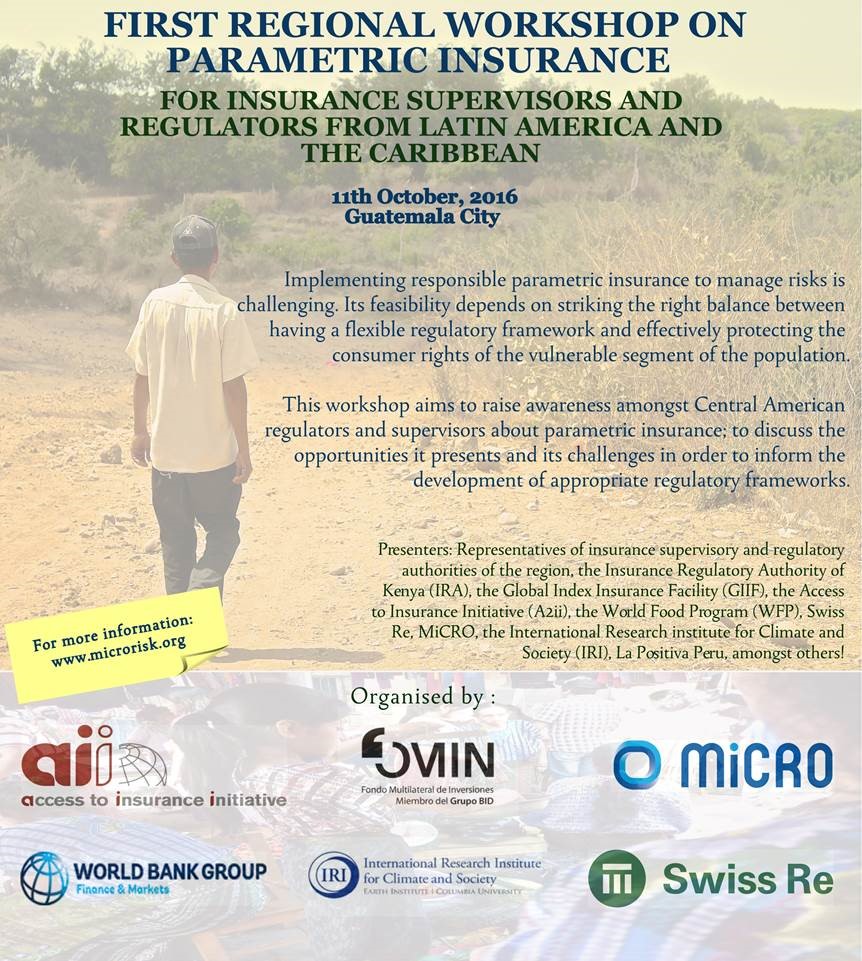 This first regional parametric insurance workshop for supervisors in LAC attracted more than 80 participants from Latin America, North America, Europe and Africa.
This event was organised by the Microinsurance Catastrophe Risk Organisation (MiCRO) under the auspices of the Inter-American Development Bank as administrator of the Multi-lateral Investment Fund (FOMIN), and with the support of the A2ii, the Global Index Insurance Facility (GIIF), Swiss Re and the International Research Institute for Climate and Society (IRI).
The A2ii moderated a panel examining the roles and responsibilities of the different stakeholders in parametric insurance. The panel included representatives from the public and private sectors as well as international organisations and donors. Panellists agreed that in order to make index-based insurance work, a multi-stakeholder effort was essential.
The A2ii also took part in a panel discussing the challenges for insurance supervisors arising from parametric insurance. International supervisory experiences were shared by supervisors from Kenya, Jamaica and the CIMA region whilst the A2ii provided a global perspective. The World Bank, as Chair of the IAIS drafting group on Index Based Insurance, provided an update on the development of international guidance at the IAIS. It was clear from the discussion that limited supervisory experience has been gained so far in supervising parametric insurance. However, a number or countries are in the process of developing new regulations often as a result of pressure from their Government (Ministry of Agriculture). How to deal with basis risk, define insurable interest, monitor client value, deal with limited data sets and generate demand were discussed, as well as the question of whether index-based regulation should be part of a country's microinsurance regulations or sit outside of it. The full press release is enclosed below.
Date:
Tuesday, 11. October 2016 -

8:00

to

18:00
Location:
Guatemala City, Guatemala