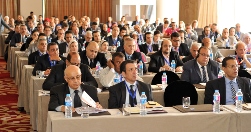 The Learning Session was attended by approximately 150 participants from the Egyptian Financial Supervisory Authority, the microinsurance sector, microfinance institutions, distribution channels and development partners.
The event was jointly organized by the GIZ implemented programme for the "Promotion of the Microfinance Sector in the MENA Region" (MFMR), the "Making Finance Work for Africa" (MFW4A) partnership, the Munich Re Foundation and the Microinsurance Network.
The A2ii moderated a panel on the "Role of Regulation in Supporting Microinsurance Market Development", which discussed the status of Egypt's regulatory framework for microinsurance and highlighted good practice examples from Ghana and the Philippines on the regulator's role in reducing barriers for the industry. The A2ii also participated in a panel on Multistakeholder Cooperation together with the Egyptian Insurance Federation, the Alexandria Business Association, the Microinsurance Network and the MFW4A partnership.
More informations about the event are available here, the agenda can be found here.
Photo Credits: © GIZ/ Youssef Nasr Kamel
Date:
Monday, 30. May 2016 - 8:30

to

Tuesday, 31. May 2016 - 18:15