For the news about the project click here.
Insurance protects against unforeseen losses and financial vulnerability and plays a vital role in promoting economic growth. Yet in most developing and emerging economies, insurance penetration rates are low and vast segments of the low-income population as well as micro and small businesses remain excluded from insurance.
The Inclusive Insurance Innovation Lab is a sequence of national workshops and international platforms for insurance supervisors and other key stakeholders of the inclusive insurance sector. It provides a unique opportunity to build leadership capabilities while working together to develop innovative solutions that will increase uptake of insurance.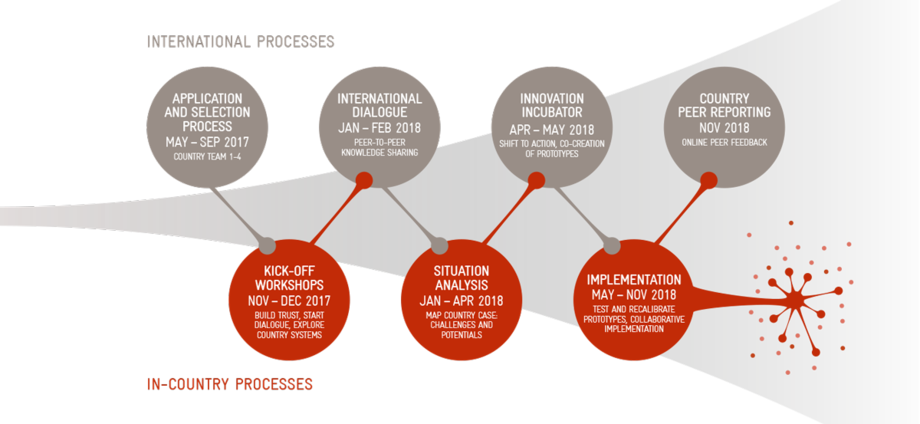 The Process
To address the challenges in improving access to insurance, the Access to Insurance Initiative and the Global Leadership Academy are launching a unique 12-month Leadership and Innovation Lab. The Lab brings together a broad range of inclusive insurance stakeholders in 4 country teams to build innovative solutions, guided by the question: How can we increase uptake of good quality insurance by vulnerable people and businesses?
The Inclusive Insurance Innovation Lab is based on the understanding that the question above cannot be tackled by one stakeholder alone. Rather, it needs the collective experience from diverse perspectives to comprehensively understand the bottlenecks within the sector.
Building on this understanding, the process will enable participants to develop and test innovative solutions to promote uptake of insurance by those in need.
The Lab aims at:
1. Promoting dialogue and mutual learning amongst key stakeholders of the inclusive insurance sector and identification of challenges in their country
Oftentimes stakeholders in the insurance market have preconceived conceptions about one another and do not adequately understand the challenges and constraints that the other actors face. The Lab will stimulate dialogue and an exchange of experiences, both within and across country teams. This will allow participants to learn from the experience of other countries (i.e. peer learning) and to thoroughly understand the perspectives of all players in the inclusive insurance market – a prerequisite to creating sustainable innovation. The process aims to develop lasting networks within (and across) the participating countries which can be drawn on even after the Lab process has come to an end.
2. Inspiring participants to take action
In a first step, country teams will collectively analyse their country context in order to identify the specific areas in which innovation is needed. In a second step, the process will enable teams to develop innovative solutions that can increase the uptake of insurance by vulnerable people and businesses. Initial implementation of the innovations will be accompanied by experienced change facilitators – but ownership ultimately rests with the country groups.
3. Equipping participants to take leadership within their sector and/or organisation
The knowledge gained and skill sets developed throughout the Lab will help participants address complex realities in their future work. The entire process is designed to promote leadership and innovation skills and the ability of participants to initiate multi-stakeholder collaboration.