Back to Microinsurance Definition
Reports, Microinsurance Definition, Global | 2016
Regulatory Definition of Microinsurance II Consultation Call Report
On the topic: A regulatory definition of microinsurance delineates this business line from other types of insurance such as traditional or mass. Distinguishing microinsurance is important to facilitate product and business model innovation; while at the same time protecting typically more vulnerable microinsurance consumers.
Since A2ii last did a call on this topic, significant experience has been gained. A number of countries have made changes to their definition and many more have introduced a new definition for the first time or are in the process of doing so. It therefore seems timely to look at the topic again. In particular, on this call we explored the rationale of having a regulatory definition and the main characteristics of such a definition as used by several countries (including their quantitative and qualitative elements). We also discussed the challenges confronted in the process of developing a regulatory definition and during its implementation. 
A definition of microinsurance in regulation is important to ensure that regulation can be tailored to the specific risk profile of micro-insurer businesses and the risk profile of the typically more vulnerable inclusive insurance consumer.
In the 16th IAIS-A2ii Consultation Call, technical experts Martina Wiedmaier-Pfister and Andrea Camargo revisited the topic of the definition of microinsurance in regulation, and discussed the objectives, key elements and challenges of establishing a regulatory definition of microinsurance.
The insurance supervisors from Ghana and Peru presented on the calls and shared their experiences with developing a regulatory definition for microinsurance.
Presentations:
Report:
Overall 48 supervisors from 21 jurisdictions participated in four calls that were held in English, Spanish and French.
Discussion evolved around the following points:
The importance of updating and monitoring regulatory frameworks/definitions to incorporate current trends, such as digitalization
The need for explicit delineation of microinsurance regulation for products targeting the low-income segment, as well as the effects that ambiguity has on consumer protection
How demarcating a microinsurance regulatory framework affects insurance penetration trends
How to deal with exclusions and tackle the issue of commercialisation (i.e. the process of making a new product available on the market)
A full report summarising the discussions of all 4 calls will follow soon.
The next Consultation Call will take place on 21 July on the topic "Implementation in Practice". If you have any suggestions for topics please let us know here.
If you are not currently on our mailing list and would like to receive invitations for future calls please send an email to: consultation.call@a2ii.org
Also in Microinsurance Definition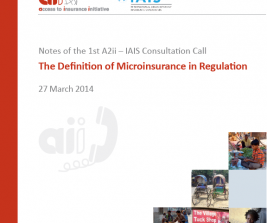 Presentations, Reports, Microinsurance Definition, Inclusive Insurance Fundamentals, Global | 2014