Back to Data Protection
Presentations, Reports, Data Protection, Global | 2018
The Role of Insurance Regulators in Dealing with Consumer Data Protection Risks
What is the role of insurance regulators in dealing with consumer data protection risks arising from increased data availability and usage?
The objective of this research study is to define data-related risks within inclusive insurance, exploring arising consumer protection issues and generating practical insights on how regulators can deal with emerging risks. Insurance regulators are often ill-equipped to understand and deal with the range of emerging risks. Furthermore, in most jurisdictions, data protection regulation falls under the mandate of the communications or data regulator. As most of these data issues are cross-cutting (not just across the financial sector but often across the entire services sector), the insurance regulator is frequently in challenging position to deal with these data-related risks. This study will, therefore, aim to unpack and define the different data-related risks within inclusive insurance, explore the consumer protection issues that arise, consult supervisors from different regions on their experiences and approaches in this regard, and generate practical insights to inform guidance to regulators on how to deal with these emerging risks. This note should be considered as the research team's initial findings. They will be augmented and adjusted through additional research and interviews. 
Stefanie Zinsmeyer (A2ii) presented the initial findings from the project at the A2ii - MIN - IAIS 13th Consultative Forum on Mobile Insurance and InsurTech: rising to the regulatory challenge that took place on 9 and 10 May 2018 and was hosted by the African Insurance Organisation.
Presentation:
Initial Findings Note: 
Also in Data Protection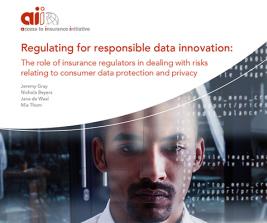 Reports, Emerging Topics, Data Protection, Global | 2018