Mariella Regh
Mariella led the inclusive insurance innovation lab and was also the main contact for the MENA region and francophone countries. She was responsible for the implementation of the online Insurance Core Principles self-assessment tool and supported A2ii's work on increasing women's access to insurance. Before joining the A2ii, Mariella worked as an advisor for private sector development at GIZ. Prior to that, she worked at AXA Germany's Risk Management Unit that dealt with implementing regulatory requirements. Mariella holds a M.Sc. in Economics and Public Policy from Institut d'Études Politiques de Paris and École Polytechnique. She is fluent in English, French and German, and also speaks some Spanish and Portuguese.
---
Blog Posts from Mariella Regh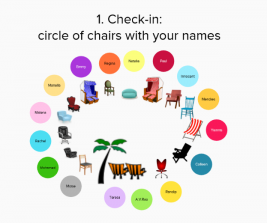 To overcome the social distance in online workshops is hard, even with the right preconditions, such as engaging content and participants who are mostly well-adjusted to using digital tools. As Covid-19 brought the world to a standstill, we chose to reformat our Inclusive Insurance Innovation Lab (iii-lab) - initially envisaged as an 18-months programme of six in-person workshops – into a fully virtual programme and to make it work.
more