Back to Newsletters
Newsletters | 2017
A2ii Newsletter 2/2017 Special Edition: First Mobile Insurance Conference Outcomes
Welcome to this special edition of our monthly newsletter. In this edition, we will highlight the emerging theme of mobile insurance, report on the recently concluded Mobile Insurance Conference and feature related newly launched publications. Happy reading!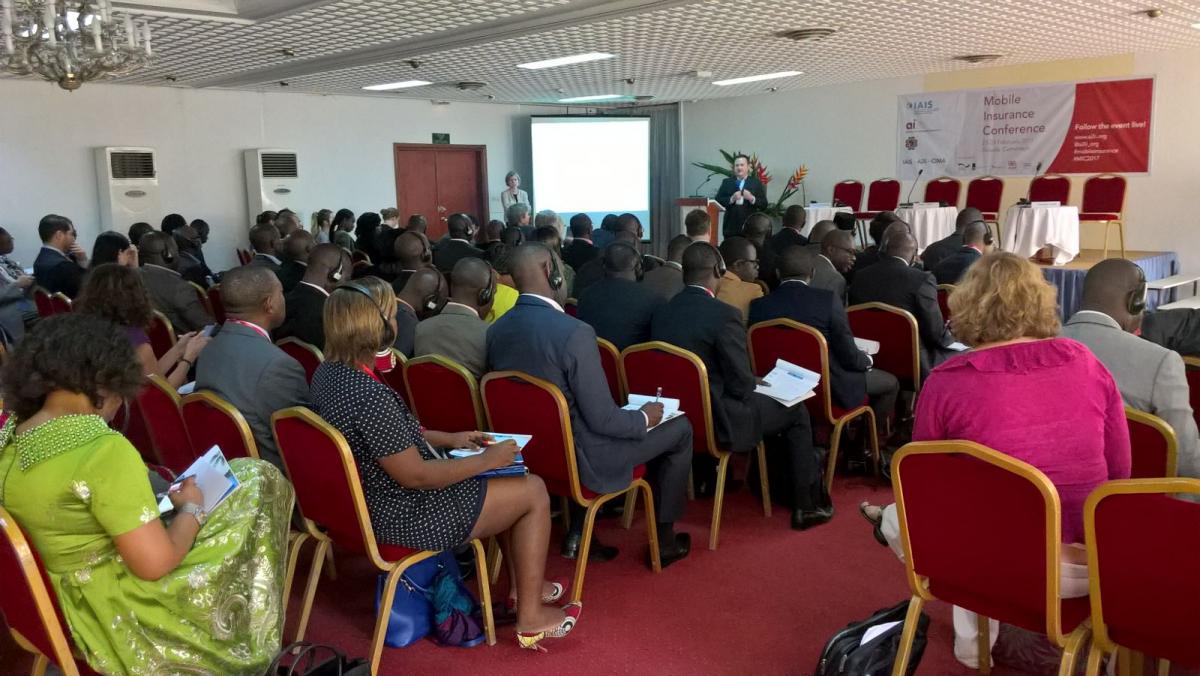 The first Mobile Insurance Conference closed after two days of intensive discussions on how to overcome barriers and seize opportunities of using mobile technologies to enhance access to insurance of low-income populations. One hundred participants from 26 countries attended the conference.  
Issofa Nchare, General Secretary of the Inter-African Conference on Insurance Markets (CIMA), closed the conference stating that mobile insurance (m-insurance) provides a top opportunity for insurance market development. He also called upon insurance regulators to facilitate innovation whilst ensuring consumer protection.
Hannah Grant, Head of Secretariat of the Access to Insurance Initiative (A2ii), reiterated the need for strengthened cooperation and coordination among supervisors, industries and policy makers, and stressed the importance of flexibility in regulatory frameworks to allow the growth of new business models. 
M-insurance has been a strong driver for the increase of retail insurance penetration in regions with very low insurance uptake. The conference highlighted the need for insurance supervisors to balance the objectives of market development and consumer protection. 
The discussions revealed that creating flexibility in regulation to allow space for innovation is vital. This applied not only to m-insurance, but the broader leaps being taken in the application of Insurtech to develop markets. To achieve this, capacity building amongst all stakeholders, public and private, will be an important foundation. A common theme in the discussions was that, throughout the insurance delivery process, building consumer awareness and understanding is required for an optimal insurance experience. 
Digital technology is changing the insurance landscape by paving the way for new players and business models with the potential to rapidly expand coverage. The discussions during the conference made it clear that there are still many open questions to resolve in this space.
M-insurance cuts across multiple laws, regulations and authorities that extend beyond the insurance sector among them, payments systems and telecommunications. This overlap creates the need for cooperation across these industries, the models of which are still new and growing. The advent of technology has introduced a range of new players, notably technical service providers, and the question remains how to effectively include these new players, while keeping the consumer experience positive.  
One of the highlights of the conference is the launch of the new Access to Insurance Initiative (A2ii) report, "Regulating Mobile Insurance: Status and Regulatory Challenges.' The report explored the risks and opportunities of mobile insurance, drawing on the experiences of 26 jurisdictions. (Download the report here: https://a2ii.org/sites/default/files/reports/20170214_mobile_insurance_c... )
Kofi Andoh, an insurance supervisor from Ghana, shared his country's experiences with mobile insurance, remarking that "Insurance is a promise which one cannot simply discontinue that in the next month", referring to some initial short-term loyalty products that were introduced in some markets  Andoh also stressed that it is important for regulations to support more than one method of purchasing cover. He further recommended that the most helpful regulatory environment is where the edges of the playing field are clearly marked out and the regulator does not become a player setting premiums and commissions. 
Luc Noubissi, chair of the IAIS Drafting Group on the Digital Inclusive Insurance, reporting the work of his team gathered ahead of the conference, stated that: " Digital technology can help solve inclusive insurance challenges, but gives rise to particular risks and regulatory considerations to which supervisors should respond through a proportionate application of the principles for insurance regulation". Noubissi invited supervisors to actively contribute to the IAIS Application Paper on the topic, by providing illustrations, recommendations or examples of good practices on how supervisory material may be implemented. "The Application paper is planned to be adopted by the end of 2017 and will provide additional material to mitigate the risks raised by digital technologies in various stages of product life cycle and in value chain", he concluded. 
A conference report will become available in April.
The conference was organised by the A2ii, the IAIS, and CIMA. It is supported by BMZ, DGIS, UK Aid, FSD Africa and Munich Re Foundation.
The presentations are available at: https://a2ii.org/en/event/save-date-iais-a2ii-cima-mobile-insurance-conference    
Recent Publications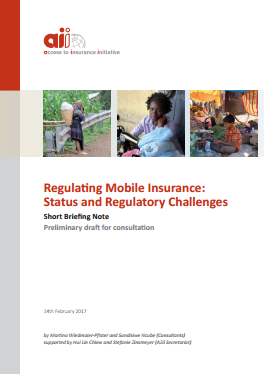 This document serves as a preliminary summary of a larger study commissioned by the Access to Insurance Initiative (A2ii) for 2017. The summary provides a review of supervisory approaches to mobile insurance (m-insurance) in various jurisdictions with the aim of providing inputs to the forthcoming IAIS1 -A2ii-CIMA2 Conference on Mobile Insurance Workshop in Douala, Cameroon from 23rd- 24th February 2017. The study draws on various sources including online surveys, telephone interviews and desktop research. Online surveys were completed by insurance supervisors from 26 jurisdictions and follow-up in-depth telephone interviews were conducted with insurance supervisors from 9 jurisdictions between October 2016 and January 2017 (Brazil, CIMA, Ghana, Kenya, India, Indonesia, Philippines, South Africa and Tanzania). Furthermore, additional interviews were also conducted with key resource persons and stakeholders within the m-insurance sector. This study will also feed into the work of the IAIS Drafting Group on Digital Technology in Inclusive Insurance on an applications paper on digital insurance. The paper focuses on m-insurance, but also addresses some other aspects of digital insurance and technology. 
Download the report here: https://a2ii.org/en/report/thematical/regulating-mobile-insurance-status-and-regulatory-challenges  

The 19th Consultation Call, held on 24 November 2016, focused on exploring data protection challenges arising from mobile insurance business models. Four calls were held: two in English, one in French and one in Spanish.
Technical experts Dr Nicola Jentzsch (Consultant) and Andrea Camargo (Director of Regulation and Consumer Protection at the Microinsurance Catastrophe Risk Organisation, MiCRO) explored important privacy and data protection risks introduced by applying Big Data analytics to the provisioning of insurance, as well as corresponding regulatory considerations for supervisors. Country experts Eugene Du Toit from the South African Financial Services Board and Ranferi Gómez from the Mexican National Commission of Insurance and Finance shared their jurisdictions' experience with data protection in mobile insurance.
Download the report here: 
EN: https://a2ii.org/sites/default/files/field/uploads/19.20consultation_call_engl_web.pdf
FR: https://a2ii.org/sites/default/files/field/uploads/19.20consultation_call_fr_web.pdf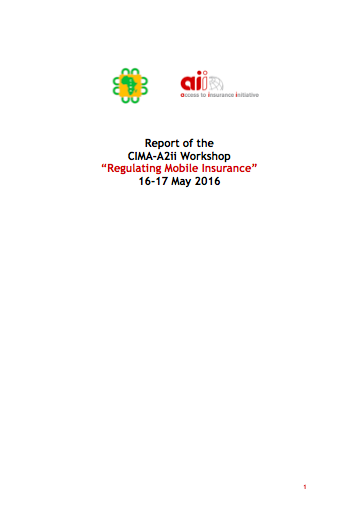 In May 2016, the Inter-African Conference on Insurance Markets (CIMA) in partnership with the Access to Insurance Initiative (A2ii) hosted a workshop in Abidjan, Côte d'Ivoire. 
The main objective of the workshop was to provide inputs to assist CIMA in developing regulations to deal with mobile insurance that protect the policyholder and ensure financial stability. The workshop was also intended to create a framework for cooperation and information exchange between the supervisors and regulators involved in mobile insurance in the CIMA zone. 
Read the conference outcomes in this report: https://a2ii.org/en/report/regulation-and-supervision-cima/report-cima-a...
Announcements: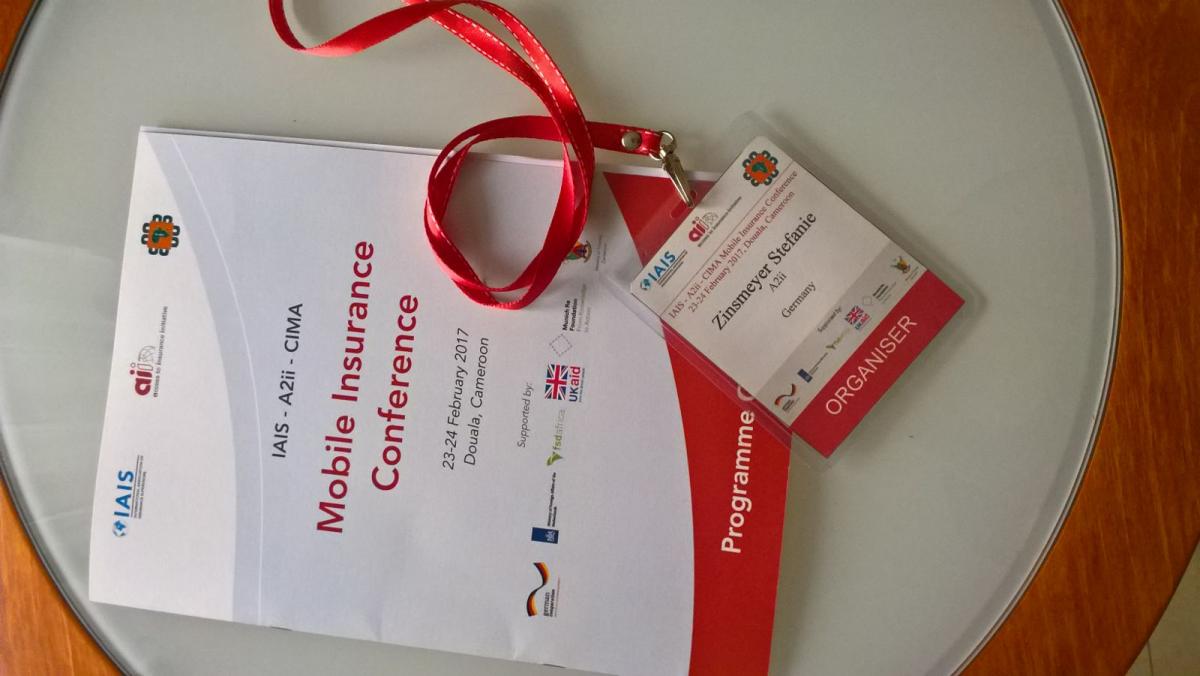 During the two-day conference, the conference hashtag #MIC2017 has been tweeted 184 times by 35 contributors, reaching a total of 34,405 accounts. The top contributors are: @CGAP, @CENFRI and MIN. 
The top six tweets include:
1)  cenfri @cenfri_org
How is #InsurTech addressing key challenges in #microinsurance? Our MD @DoubellC shares our research at #MIC2017
2) Access to Insurance @A2ii_org
Download the new A2ii study on Regulating #MobileInsurance: Status and Regulatory Challenges #MIC2017
3) Cat Denoon-Stevens @CatDStevens
Love triangle of insurers, MNOs & TSPs has been very important to make m-insurance work, but also complex #MIC2017 https://t.co/22cigmxa0D
4) CGAP @CGAP 
RT @A2ii_org: Peter Wrede of .@CGAP : Digital financial inclusion is not just limited to #mobileinsurance #MIC2017 https://t.co/BzwwTkLF9O
5) Craig Thorburn@ThorburnCraig  
Craig Thorburn hat Access to Insurance retweetet
There is more to #Mobileinsurance than there first appears. This conference is a very rich discussion.
RT: Access to Insurance@A2ii_org: Kofi Andoh: Insurance is a promise. You cannot simply discontinue that in the next month #MIC2017 #mobileinsurance
6) MicroinsuranceNetwk@NetworkFlash
 Time to ask feedback from peers researching best practices on #mobileinsurances worldwide. H. Grant @A2ii_org #MIC2017 #microinsurance
Upcoming Events:
The IAIS, the Microinsurance Network and the A2ii will hold its 9th Consultative Forum on 'Exploring challenges in scaling up insurance as a disaster resilience strategy for smallholder farmers' on 14 March 2017 in Singapore. 
Hosted by the Monetary Authority of Singapore (MAS), the dialogue will focus on challenges in scaling up agricultural index-based insurance, and how insurance supervisors, policymakers and the industry can cooperate in addressing them. 
Supervisors, policymakers and industry players are highly welcome to attend.
Check out the programme and relevant information: https://a2ii.org/en/event/save-date-9th-consultative-forum-topic-explori...
To register, email: info@microinsurancenetwork.org