Back to Newsletters
Newsletters | 2018
Access to Insurance Initiative Newsletter 06/2018
Welcome to our monthly newsletter, where we update you on the work of the Initiative, inform you about events and publications, and share experiences and learning on inclusive insurance regulation and supervision across jurisdictions.
Follow us on Twitter @a2ii_org where we serve you news and updates on #inclusiveinsurance
We're cleaning up – make sure you stay on our mailing list
We wanted to let you know that we've updated our Data Protection Policy to help you better understand how your data is being used and how we comply with the EU General Data Protection Regulation (GDPR).
Following this, if you would like to keep your subscription to the A2ii news, updates, and stay on our mailing list, please fill out this FORM; it will take 30 seconds of your time.  You can equally use the form to unsubscribe. For those that have already updated your subscription, there is no need to take action.

Actualización de la lista de correo!

Mise à jour de la liste de diffusion!
Many thanks from all of us at the A2ii!
Recent Events

Supervisory Dialogue on the impact of informality on insurance markets – what supervisors can do
17 May 2018, Rio de Janeiro, Brazil
The event, which brought together 43 participants from 15 countries, provided an overview of how informality may affect insurance markets bringing to light the challenges faced by supervisors. The event also provided a platform for information sharing on the topic with presentations made on the approaches adopted by jurisdictions in different regions to try and identify and address informality.
The IAIS-A2ii Supervisory Dialogue was part of a three‐day series of events co-hosted by Superintendência de Seguros Privados (SUSEP), the Brazilian insurance supervisory authority.
The signing of the SUSEP – GIZ – A2ii Memorandum of Understanding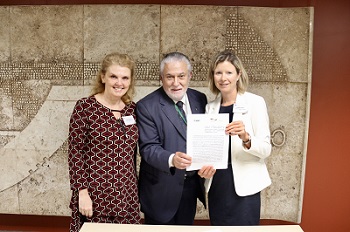 On May 17th, SUSEP, GIZ and A2ii formalized the cooperation agreement on SUSEP hosting the A2iis regional hub for Latin America in its headquarter building in Rio de Janeiro. The agreement is intended to strengthen the foundations of the regional hub as well as demonstrate the on-going commitment of the A2ii and SUSEP to work together on promoting financial inclusion and strengthening supervisory capacity building in the region. The A2ii regional office for Latin America has been running since October 2017following the arrival of Regina Simoes, A2ii Latin America Regional Coordinator in July 2017. 
Sustainable Insurance Forum meeting
16 May 2019, Rio de Janeiro, Brazil
The A2ii participated in this 4th meeting of the Sustainable Insurance Forum (SIF) which included supervisors from 15 different jurisdictions. The SIF launched in December 2016 with the aim to bring together insurance supervisors to tackle issues of common concern with respect to sustainable development. Since its inception its main focus has been on climate change issues and in this regard, it has developed a joint IAIS-SIF Issues Paper on Climate Change Risks to the Insurance Sector. It is intended that a final draft of the paper will be published following the IAIS committee meetings in Moscow later in the year.
At the meeting in Rio supervisors worked together on several new tracks of work, including the development of tools and training materials on sustainability issues to help supervisors raise these issues in their ongoing engagements with firms. In addition, the SIF agreed to develop a guidance document on how insurance supervisors can leverage their strengths to encourage the development of sustainable insurance markets – and support broader strategic efforts to promote sustainable finance across banking, investment, and capital markets. The A2ii also presented at the meeting sharing its experiences in conducting capacity building activities with supervisors.
13th Consultative Forum on Mobile Insurance and InsurTech: rising to the regulatory challenge
9-10 May, Accra, Ghana
During the afternoon of 9 May and the morning of 10 May, over 60 supervisors, insurance industry representatives and other stakeholders from 16 countries across Africa and the globe gathered at the 13th Consultative Forum in Accra, Ghana to discuss taking a customer centric approach to using innovation in inclusive insurance and the fair treatment of customers in InsurTech initiatives.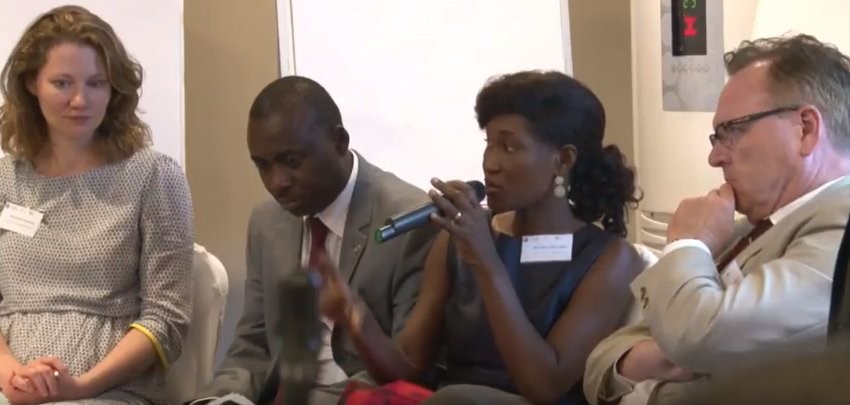 Three questions guided the Forum discussions: What is insurance supervisors' role in market development and in promoting access to insurance? How can one best use InsurTech to the advantage of the customer? And, how can the mandate of the regulator encourage innovation that supports the development of the insurance market?
To harness InsurTech all the while protecting the financial system and consumers three pre-conditions were highlighted:
Regulatory clarity
Dialogue with the industry, and
Good understanding of consumers' needs.  
Regulatory frameworks need to be sufficiently flexible to encompass the fast-paced changes in digital technologies. Considerations also need to be made as to how regulatory frameworks can encourage competition and  innovation, advance financial inclusion and allow for the delivery of more convenient financial services. Read InsurTech promise for microinsurance – rising to the regulatory challenge, to find out about the main takeaways.
To watch the full video of the 13th Consultative Forum visit the A2ii Youtube channel.
The 13th Consultative Forum took place alongside the 45th Conference of the AIO. The theme of the AIO conference was "Innovation, Risk, and the Future of Insurance in Emerging Markets " and a number of perspectives on the impact of technology on insurance markets in Africa and using technology to expand access to insurance were discussed. The A2ii also attended the Association of African Insurance Supervisory Authorities (AAISA) meeting and gave an update on upcoming IAIS-A2ii activities for Sub-Saharan Africa for 2018.
IAIS-A2ii Consultation Call on Ratios and cost structures in insurance supervision
24 May – webinar
This supervisory only  call dealt with supervisory ratios in insurance supervision, particularly in relation to client value and product cost structures. We were very happy to see a record number of participants for our call.
When licensing and supervising insurance products, supervisors need to make judgements on the soundness, sustainability and ethics of the product proposed. This is particularly the case when products are designed as part of an initiative for increased financial inclusion, as those underserved segments often contain economically and socially vulnerable consumers with low familiarity with insurance products. This call explored some of the approaches in evaluating this, the ratios involved (e.g. loss ratio, claims ratio, renewal ratio, and others) and some concrete examples of what considerations come into play.
We heard an expert presentation by Clémence Tatin-Jaleran and Andrea Camargo, and were joined by Michael Sicsic of the UK's Financial Conduct Authority (FCA), who shared the FCA's experience with the set of key reporting ratios they are piloting. Annibal Vasconcellos of the Brazilian supervisor SUSEP also shared his experiences with the monitoring of ratios.
For supervisors who couldn't attend, a recording of the expert presentation is available on demand. Simply send a message to consultation.call@a2ii.org. A written summary of the call will shortly be available on the A2ii website here.
Upcoming Events
Inclusive Insurance Regulation Training, Toronto Centre
18 – 22 June Rabat, Morocco
This training seminar will be conducted in French language only and is designed to help participants examine topics related to:
• The importance of adopting a proportionate approach to regulation and supervision to improve access to insurance services and ensure adequate protection for low-income consumers.
• Recent practices and case studies of selected jurisdictions that have advanced the field of microinsurance.
The training curriculum is based on the IAIS Application paper on the regulation and supervision of inclusive insurance markets and IAIS-A2ii Core Curriculum for Insurance Supervisors: Regulation and Supervision Supporting Inclusive Insurance Markets and it has been organised in cooperation with the Moroccan supervisory authority (ACAPS), the IAIS and the Toronto Centre.
iii-lab Innovation Incubator
Durres, Albania, 19-22 June 2018
For the second and last international meeting of the Inclusive Insurance Innovation Lab, all four country teams from Albania, Ghana, Kenya and Mongolia will come together in the Albanian town of Durres. The focus of this international workshop (Innovation Incubator) will be for country teams to advance the ideas and prototypes developed during the last national meetings. Through learning journeys and interactions with their peers and external guests, lab participants will gain further knowledge about challenges and opportunities in implementing their ideas. They will leave the workshop  with a clear plan for implementation. 
IAIS-A2ii Consultation Call on Supervisory Responses to Fraud
19 July – webinar

Please save the date for the next IAIS-A2ii consultation call on Thursday 19 July. The topic will be on "Supervisory Responses to Fraud", and registrations will be launched in the coming weeks.
The IAIS-A2ii consultation calls are topic-focused webinars (via WebEx) for insurance supervisors.
Impact Insurance Academy
10  - 14 September, Turin, Italy
The ILO's Impact Insurance Facility, the International Training Centre of the ILO and partners including the A2ii are excited to announce the first Impact Insurance Academy! This is a unique opportunity to learn from a decade of experience of the Facility in inclusive insurance!
The one-week Academy will take place at the International Training Centre of the ILO in Turin, Italy, from September 10 to 14, 2018 and combines plenary discussions with elective workshops, peer-assist sessions, real case studies and networking opportunities to offer you an inspiring and dynamic learning environment.  The A2ii will be running afternoon breakout sessions on inclusive insurance regulation and supervision.
Visit the website to learn more about the Academy, the programme, and how to register!
Got any questions? Write to impactinsuranceacademy@itcilo.org.
Recommended reads
Initial Findings Note on the role of insurance regulators in dealing with consumer data protection risks
The aim of this new A2ii study is to unpack and define different data-related risks within inclusive insurance and explore the consumer protection issues that can arise as a result. The note is based on desk research with insurance supervisors from different regions on their experiences and approaches. It provides practical insights to help guide supervisors on how to deal with these emerging risks. This note should be considered as the research team's initial findings. They will be augmented and adjusted through additional research and interviews and published as part of a more comprehensive report on the topic later in the year.
InsurTech promise for microinsurance – rising to the regulatory challenge
InsurTech has the potential to reach more people, empower and engage emerging customers, improve service delivery and ultimately, enhance client value. But it could also lead to financial exclusion, erosion of trust and even harm the reputation of the insurance industry, if not properly regulated.  Industry experts and insurance supervisors met at the 13th Consultative Forum in Accra, Ghana, to identify some of the challenges and opportunities presented by InsurTech and to discuss how different stakeholders can work together to facilitate innovation, consumer protection and market development. This article summarises the main takeaways of the 13th Consultative Forum on Mobile Insurance and InsurTech.