Back to Newsletters
Newsletters | 2016
Access to Insurance Initiative Newsletter 12/2016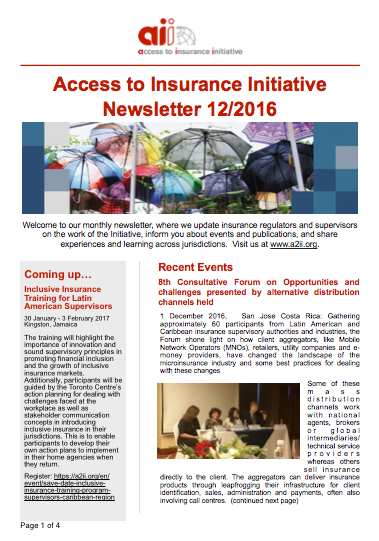 Welcome to our monthly newsletter, where we update insurance regulators and supervisors on the work of the Initiative, inform you about events and publications, and share experiences and learning across jurisdictions.
Visit us at www.a2ii.org.
Download the pdf version of this newsletter.
Year-end Message from the A2ii Secretariat 
Access to insurance remains a key challenge for many low-income populations around the globe. Since our founding in 2009, the A2ii has made significant progress in supporting supervisors and regulators to create necessary conditions for inclusive insurance markets to grow and bring insurance to the doorstep of everyone who needs it. 
We would like to take this opportunity to look back on what we achieved in 2016 as well as look forward to some of the highlights coming up in 2017.
2016 Highlights
Established first regional hub: In September 2016, Janice Angove took up the position of Sub-Saharan Africa regional coordinator. The position is hosted by the South African Financial Services Board (FSB) in Pretoria, South Africa
Increased our accessibility: In December 2016, for the first time the A2ii 'live streamed' one of its Consultative Forums thus enabling many more individuals to benefit from the event. Overall, 385 viewers from 9 different countries tuned in.
Engaged more with other supervisory authorities of importance to insurance supervisors: In May 2016, the A2ii partnered with CIMA to organise a workshop on mobile regulation in the Ivory Coast. The workshop was attended by the central bank, telecommunications authorities as well as CIMA and national insurance supervisory authorities. In September 2016, the A2ii together with FSB and FinMark Trust organised a financial consumer education workshop this was attended by government ministries, central bankers, pension authorities as well as insurance supervisors.
Spurred greater global action on (insurance) financial consumer education: The seminar organised in South Africa motivated the OECD International Network on Financial Education (INFE) to re-establish its insurance working group. It also helped to kick start the process to develop a Global Declaration on Financial Literacy at the OECD.
Increased our capacity building activities:
We organised six Consultation Calls providing approximately 250 supervisors with a chance to discuss with an expert and their peers on emerging topics such as access to insurance for migrants, data protection challenges in mobile insurance, as well as proportionate frameworks and approaches in insurance supervision, regulation and market development of inclusive insurance. To access the consultation call presentations and notes, visit https://a2ii.org/en/knowledge-centre/iais-a2ii-consultation-calls 
We also organised three Consultative Forums together with the IAIS, the Microinsurance Networks and other local partners on: (1) "Innovative products for the emerging consumer" in Marrakesh, Morocco, (2) "The role of mutuals, cooperatives and community-based organisations in inclusive insurance markets" in Colombo, Sri Lanka and (3) Challenges and opportunities presented by alternative distribution channels" in San Jose, Costa Rica. 
Together with the IAIS, Toronto Centre, and other partners, we've organised two inclusive insurance training seminars for insurance supervisors in Asia (Bangkok, Thailand) and in Sub-Saharan Africa (Cairo, Egypt).  
We spoke at 17 partners events sharing our knowledge whilst increasing the impact and outreach of our work.
Launched new knowledge products: We kicked off a new Policy note series starting with the topic "How agricultural insurance can improve food security – and why regulation matters". Additionally, we've released a report on "Proportionate Regulatory Frameworks in Inclusive Insurance: Lessons from a Decade of Microinsurance Regulation". Visit our Knowledge Hub to access these reports: https://a2ii.org/en/knowledge-centre/reports 
Contributed to IAIS Supervisory Materials :We actively participated in 5 different drafting groups on the topics of digital financial inclusion, index based insurance, , Mutuals Cooperatives and Community based Organisations (MCCOs), actuarial practices in inclusive insurance and product oversight. In addition, we participated in the work of the IAIS Supervisory Material Review Taskforce which has an overarching role in overseeing any changes to the ICPs. 
Enhanced awareness raising efforts: This year, we've produced 11 newsletters and 7 newsflashes and updated the A2ii factsheet. To access A2ii Newsletter archive, visit: https://a2ii.org/en/knowledge-centre/newsletter
2017 Highlights:
2017 will be another year of implementation, particularly in the African, Latin American and Asian regions. As a response to the demands of supervisors, we will increase our capacity building programmes and events and seek to strengthen and make better use of the full range of peer to peer support mechanisms our close relationship with the IAIS affords us. 
Knowledge generation will also remain core to our agenda along with feeding the learnings from our work on the ground back into the development of new IAIS supervisory materials.
2017 will also be a year of innovation as we launch the Inclusive Insurance Innovation Lab, a new platform to nurture innovation and leadership capabilities of supervisors. 
For more information on our plans for 2017 and upcoming events please visit our website. .
Thank you!!!
The A2i Secretariat would like to thank its partners, supporters, and the members of the Governing Council for their support and strategic guidance throughout the year, with a special thanks to our chairman, Jonathan Dixon, for his ongoing dedication and support. Finally, we would like to thank our main funders BMZ and DGIS for their continued contributions, without which the work of the A2ii would not be possible.
Recent Events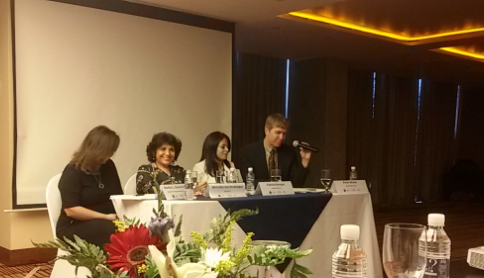 1 December 2016,  San Jose Costa Rica: Gathering approximately 60 participants from Latin American and Caribbean insurance supervisory authorities and industries, the Forum shone light on how client aggregators, like Mobile Network Operators (MNOs), retailers, utility companies and e-money providers, have changed the landscape of the microinsurance industry and some best practices for dealing with these changes 
Some of these mass distribution channels work with national agents, brokers or global intermediaries/ technical service providers whereas others sell insurance directly to the client. The aggregators can deliver insurance products through leapfrogging their infrastructure for client identification, sales, administration and payments, often also involving call centres.  They can greatly expand the reach of microinsurance to previously unserved consumers. However, the downside of this   may be product design that does not cover peoples' most important risks, high commission rates or low consumer understanding while face-to-face interaction is limited, all of which can result in questionable product value and low claims ratios.  
They can greatly expand the reach of microinsurance to previously unserved consumers. However, the downside of this   may be product design that does not cover peoples' most important risks, high commission rates or low consumer understanding while face-to-face interaction is limited, all of which can result in questionable product value and low claims ratios.
During the Forum, regulators and supervisors discussed how they can ensure consumer protection while stimulating new distribution channels. It is imperative for regulators, insurers and the intermediaries in the different channels to work together to achieve this balance. Supervisors need to enforce quality control measures upon the insurance companies and their channels. Meanwhile, insurers need to simplify their product and use a multi-channel approach for different target groups. Additionally, the regulation needs to be flexible to protect consumers and stimulate innovation. 
The Forum took place just a week after Hurricane Otto hit Costa Rica. Tomás Soley of Superintendencia General de Seguros de Costa Rica (Sugese) remarked at the start of the Forum that: "Farmers and other rural people faced high uninsured losses. Insurers and regulators should recognise the importance of sustainable products for the low-income people and farmers."
Connor Donaldson of the International Association of Insurance Supervisors (IAIS) agreed that: "The input for the development of appropriate regulations comes from conferences like this and from participants like you. We learn lessons and apply them directly in our supervisory material. Technology is driving a significant shift in the landscape." 
The IAIS, the Microinsurance Network (MIN), the A2ii and the Sugese jointly organised the Forum. 
 5-9 December 2016, Sydney, Australia: The A2ii attended the Regional Workshop for Pacific Islands Insurance Supervisors on Insurance Regulation and Market Development organised by the Asian Development Bank (ADB). Twenty-two Pacific Island supervisors took part.
A key focus of the workshop was risk-based supervision (RBS), supported by discussions in the context of smaller insurance markets and informal institutions. The workshop also explored market development topics, such as inclusive insurance regulations and insurance for small and medium enterprises.
The A2ii presented a snapshot of different inclusive insurance regulations from around the world, characteristics of inclusive insurance regulatory frameworks and challenges supervisors face in implementing them. This was discussed in the context of proportionality and ICP guidance. Participants raised interesting questions on the different regulatory approaches that could be deployed. The session ended with a roundtable for participants to share what their immediate regulatory development priorities were.
Participate in our Events!
26 January 2017
In response to requests from the IAIS Executive Committee as well as Latin American supervisors the next A2ii-IAIS Consultation Call will be on the topic of reinsurance. The call will focus on reinsurance from a host jurisdictions perspective and will examine questions around enforcement of contracts, direct and indirect supervision of reinsurers and contract oversight among other issues.
The call will be held in English at 10am CET and 3pm CET, French at 12 midday and Spanish at 5pm CET. Please mark the date in your diaries now. Invitations to register for the calls  will be sent out in the New Year. Please note these calls are restricted to supervisors only.
30 January - 3 February 2017
Kingston, Jamaica
The training will highlight the importance of innovation and sound supervisory principles in promoting financial inclusion and the growth of inclusive insurance markets. Additionally, participants will be guided by the Toronto Centre's action planning for dealing with challenges faced at the workplace as well as stakeholder communication concepts in introducing inclusive insurance in their jurisdictions. This is to enable participants to develop their own action plans to implement in their home agencies when they return.
REGISTRATION DEADLINE EXTENDED TO 13 JANUARY!
Register: https://a2ii.org/en/event/save-date-inclusive-insurance-training-program-supervisors-caribbean-region 
23 - 24 February 2017
Doula, Cameroon
This conference will delve into the unique regulatory challenges and opportunities of using mobile insurance to make inclusive insurance at scale a reality. It will shine a light on the rising trends on digital technologies and mobile insurance, prudential and market conduct risks arising from mobile insurance, current regulatory approaches and take a deeper look at key regulatory considerations: cooperation across different regulatory authorities, data protection and building consumer awareness.
Register: https://a2ii.org/en/event/save-date-iais-a2ii-cima-mobile-insurance-conference 
Hot off the press!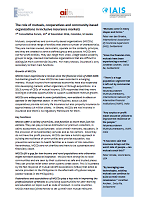 The briefing note summarises the key points discussed during the 7th Consultative Forum in Colombo, Sri Lanka, on "The role of mutuals, cooperatives and community-based organisations (MCCOs) in inclusive insurance markets", held last November 2016 in Colombo, Sri Lanka. The briefing note also provides key recommendations for policy makers, supervisors and MCCOs. 
Download: https://a2ii.org/sites/default/files/events/20170104_cf7_report.pdf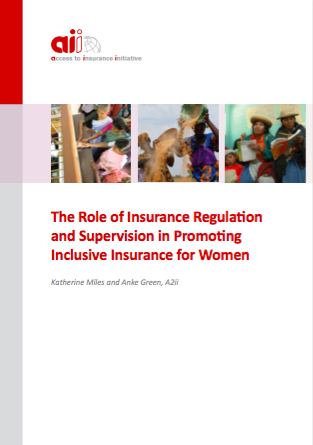 This paper aims to inspire momentum and increase awareness among insurance supervisors of the transformative potential of gender approaches. It explains how supervisors have started to consider gender dimensions in their work, in particular by exploring differences between women and men's access to insurance. Moreover, it emphasises the relevance of women's access to insurance in the context of financial inclusion policymaking. 
Download: https://a2ii.org/en/report/thematical/role-insurance-regulation-promoting-inclusive-insurance-women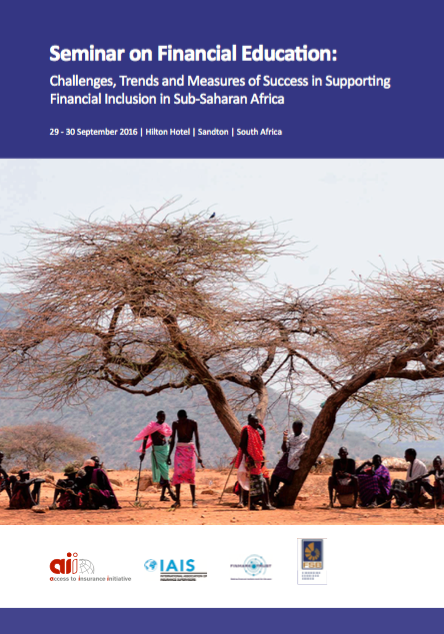 The report summarises the key take-aways and recommendations of the seminar on Financial Education: Challenges, Trends and Measures of Success in Supporting Financial Inclusion in Sub-Saharan Africa held last September 2016 in  Sandton, South Africa.
Download: https://a2ii.org/en/report/regional-thematical/report-financial-educatio...