Back to Newsletters
Newsletters | 2016
Access to Insurance Initiative Newsletter 11/2016
Welcome to our monthly newsletter, where we update insurance regulators and supervisors on the work of the Initiative, inform you about events and publications, and share experiences and learning across jurisdictions.
Visit us at www.a2ii.org. 
Download the pdf version of this newsletter.
Recent events
A2ii and IAIS hold 19th Consultation Call on data protection challenges in mobile insurance 

24 November 2016: There has been a rapid growth in mobile insurance, especially over the past five years. Yet for a domain where so much is happening and where more players (e.g. mobile network operators, technical service providers) and regulators are getting involved, there is still little information about the potential risks and corresponding solutions. In particular, the topic of data protection – the regulatory measures taken to protect personal data – has not received m  uch attention.
With the increasing deployment of information technologies for the provision of mobile insurance, more and more market players collect personal financial, geo-locational and lifestyle information on individuals. This raises important privacy questions related to the processing and distribution of personal data, consumer protection (e.g. insurance pricing based on lifestyle) as well as difficult competition questions.
On the 19th IAIS-A2ii Consultation call, technical experts Nicola Jentzsch and Andrea Camargo presented the data protection challenges of today and the future trends. They also gave an overview of how regulation could address some of these challenges and in particular what insurance supervisors can do. South Africa's FSB and Mexico's CNSF presented how they address the topic of data protection in mobile insurance.  Overall around 60 supervisors from 30 jurisdictions participated in the four calls that were held in English, Spanish and French.
Discussion evolved around the following points:
Options in the absence of an overall data protection regulation and how to address data protection issues in the insurance regulation.
Whether increased data processing and personalised targeting of customers could lead to a situation where low-income consumers are excluded 
The role of the insurance supervisor. 
More information: https://a2ii.org/en/consultation-calls/19th-a2ii-iais-consultation-call-data-protection-challenges-mobile-insurance-24. A full report summarising the Consultation Call will follow soon. 
7th Consultative Forum spotlights the role of mutuals, cooperatives and community-based organisations in inclusive insurance 
15 November 2016, Colombo, Sri Lanka: Approximately 50 representatives of supervisory authorities, the insurance industry and MCCOs took part in the 7th Consultative Forum on 'The role of mutuals, cooperatives and community-based organisations (MCCOs) in inclusive insurance markets', organised by the Microinsurance Network, the A2ii and the IAIS alongside the 12th International Microinsurance Conference. 
In an introductory presentation on the global landscape of MCCOs, Jonathan Anchen, Senior Vice President at Swiss Re highlighted the revival that MCCOs have had since the financial crisis of 2008-2009 and pointed to some of the opportunities and threats they are facing in the current regulatory and technological environment. 
A panel of representatives of MCCOs, the International Cooperative and Mutual Insurance Federation (ICMIF) and a regulator emphasised the important socio-economic role that MCCOs can play, but also pointed to the main concerns from a regulatory perspective.  A second panel highlighted some of the innovations occurring in the field, in particular the role of new peer-to-peer insurers. The importance for regulators to thoroughly observe and understand the MCCO sector before taking action was emphasised.
In addition to the panels and interactive dialogues, Peter van den Broeke from the IAIS Secretariat presented the IAIS Application Paper on the regulation and supervision of MCCOs in increasing access to insurance markets, which is just in the process of being finalised.
Overall, the Forum provided a timely opportunity for exchange  and dialogue between MCCOs and insurance regulators and highlighted important considerations for both regulators and MCCOs. 
More information: https://a2ii.org/en/event/7th-consultative-forum-topic-role-mutuals-cooperatives-and-community-based-organisations 
A2ii presents  at the 12th International Microinsurance Conference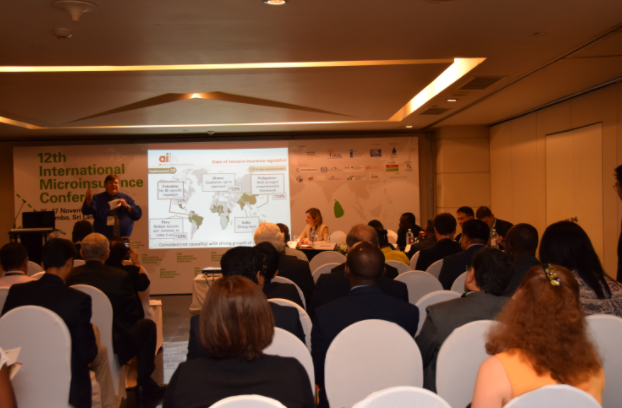 15-17 November 2016, Colombo, Sri Lanka: The conference was hosted by the Insurance Association of Sri Lanka (IASL), the Munich Re Foundation and the Microinsurance Network. Over 400 insurance and development experts from 50 countries participated in the event during which 80 speakers shared their knowledge in 30 sessions.  The A2ii was actively involved in the conference. In addition t  o the 7thConsultative Forum, the A2ii organised a panel on "Creating an enabling environment: Lessons from a decade of proportionate regulation".   
The panel gave an overview of the main learnings identified over the past 11 years of regulating inclusive insurance. It highlighted the regulator's as well as the industry and IAIS' perspectives and was very well received. The panel also served as a launch event for the A2ii's newest publication Proportionate Regulatory Frameworks in Inclusive Insurance: Lessons from a Decade of Microinsurance Regulation, which was lauded as a crucial reference document for supervisors. 
The A2ii also moderated a panel on "Women in inclusive insurance markets", which highlighted the role that supervisors and other stakeholders can play in improving access to insurance for this important population group.  The 13th International Microinsurance Conference will take place in Lima, Peru, from 7-9 November 2017.  
More information: http://www.microinsurancenetwork.org/groups/key-takeaways-12th-international-microinsurance-conference-2016  
A2ii participates in IAIS Financial Inclusion Working Group Meeting
18 November 2016, Colombo, Sri Lanka: Directly following the Microinsurance Conference, the A2ii participated in a meeting of the IAIS Financial Inclusion Working Group. The A2ii presented its new activities and priorities for 2017. 
Supervisors at the meeting discussed and compared recent developments in inclusive insurance supervision in their jurisdictions. The draft IAIS Applications Paper on Product Oversight was also discussed. 
The next meeting of the IAIS Financial Inclusion Working Group will take place the week commencing May 15th in Ljubljana, Slovenia. It will include a roundtable discussion on the topic of Financial Consumer Education. 
A2ii takes part in IAIS Committee Meetings and Annual Conference
 8-11 November 2016, Asuncion, Paraguay: The A2ii participated in the meetings of the IAIS Implementation Committee and a regional meeting for Latin American supervisors held in Asuncion alongside the IAIS Annual Conference. The importance of the A2ii in helping supervisors with tailored implementation support was stressed throughout the meetings. The IAIS Implementation Committee meeting also provided the A2ii with an opportunity to present and discuss with supervisors its Workplan for 2017. In addition, a discussion was held on how to enhance the effectiveness of the IAIS's assessme  nt programme and how the IAIS can better support its members implementation needs. In response to requests for support made during the meeting with Latin American supervisors the A2ii will now be doing its January Consultation Call on the topic of reinsurance. In support of A2ii's regional implementation strategy, we will also strengthen our engagement with insurance supervisors and other stakeholders in the Latin American region in the near future.
The 23rd IAIS Annual Conference and Annual General Meeting was hosted by the Central Bank of Paraguay and drew more than 300 supervisors and stakeholders. 
Over two days of interactive panels and key note addresses a diverse range of topics of interest to both advanced and emerging insurance markets was discussed. This included panels on risk-based supervision, financial stability and policyholder protection, technological innovation in insurance and insurance as an agent for achieving sustainable growth.
 As a Governing Council member of A2ii, Sekayi Campbell from Financial Services Commission (FSC), Jamaica represented the A2ii on a panel discussing how to leverage insurance for sustainable growth and development. 
Sekayi shared her recent experience of being part of the A2ii-IADB project in Jamaica as well as few thoughts on what the role of the insurance supervisor is in sustainable development. 
A2ii speaks at Geneva Association Health and Ageing Conference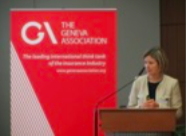 3-4 November 2016, Hannover, Germany: The theme of this year's Geneva Association conference, organised in partnership with the host Hannover Re, was  'underserved consumers – insurance solutions to close the health and longevity protection gaps'. 
From the a range of different perspectives the conference sought to explore the challenges to greater availability and uptake of insurance in the area of health, pensions and life.
The A2ii spoke on a panel looking at how microinsurance is been used in some countries to address the protection gap. The A2ii along with fellow panelists from the International Labour Organisation, ParaLife and Micro Insurance Academy highlighted the need for a different and carefully tailored approach to both products and process when targeting low income consumers. Examples were provided of distribution and product innovations seen in inclusive insurance markets. In addition, the A2ii shared its experiences in working with supervisors seeking to develop an enabling regulatory environment. Despite the majority of the audience having little experience on microinsurance, the panel generated a lot of interest on the topic with parallels drawn with some of the digital innovations seen in more developed markets.
Announcement
Job Vacancy:  A2ii seeks Latin America Regional Coordinator
The Latin America Regional Coordinator will be responsible for the development, coordination and implementation of the IAIS/A2ii regional implementation plan for Latin America. He/she will support A2ii in addressing implementation challenges and capacity building needs in the Latin American region, as well as support the Secretariat tailor its workplan to what is needed on the ground. 
The Regional Coordinator will work closely with the regional coordinator for Latin America and the Latin American Association of Insurance Supervisors (ASSAL) to strengthen supervisory cooperation in the region especially as it relates to inclusive insurance issues, develop  and disseminate regional knowledge products, coordinate with donors and development agencies and participate in relevant global and regional events. 
The A2ii is looking for someone with at least 7 years of relevant professional experience in the field of insurance regulation and supervision,  financial sector development supporting financial inclusion, economics, finance, administration or similar; strong project management skills; and proficiency in spoken and written Spanish and English.
Application deadline is December 31st 2016.
For more information: https://a2ii.org/en/job-vacancy-a2ii-regional-coordinator-latin-america  


20th A2ii-IAIS Consultation Call on Reinsurance
26 January 2017
In response to requests from the IAIS Executive Committee as well as Latin American supervisors the next A2ii-IAIS Consultation Call will be on the topic of reinsurance. The call will focus on reinsurance from a host jurisdictions perspective and will examine questions around enforcement of contracts, direct and indirect supervision of reinsurers and contract oversight among other issues.
The call will be held in English at 10am CET and 3pm CET, French at 12 midday and Spanish at 5pm CET. Please mark the date in your diaries now. Invitations to register for the calls  will be sent out in the New Year. Please note these calls are restricted to supervisors only.
Inclusive Insurance Training for Latin American Supervisors
30 January - 3 February 2017
Kingston, Jamaica
The training will highlight the importance of innovation and sound supervisory principles in promoting financial inclusion and the growth of inclusive insurance markets. Additionally, participants will be guided by the Toronto Centre's action planning for dealing with challenges faced at the workplace as well as stakeholder communication concepts in introducing inclusive insurance in their jurisdictions. This is to enable participants to develop their own action plans to implement in their home agencies when they return.
Register: https://a2ii.org/en/event/save-date-inclusive-insurance-training-program-supervisors-caribbean-region 
23 - 24 February 2017
Doula, Cameroon
This conference will delve into the unique regulatory challenges and opportunities of using mobile insurance to make inclusive insurance at scale a reality. It will shine a light on the  rising trends on digital technologies and mobile insurance, prudential and market conduct risks arising from mobile insurance, current regulatory approaches and take a deeper look at key regulatory considerations: cooperation across different regulatory authorities, data protection and building consumer awareness.
Register: https://a2ii.org/en/event/save-date-iais-a2ii-cima-mobile-insurance-conference 
Hot off the press
Proportionate Regulatory Frameworks in Inclusive Insurance: Lessons from a decade of micro insurance regulation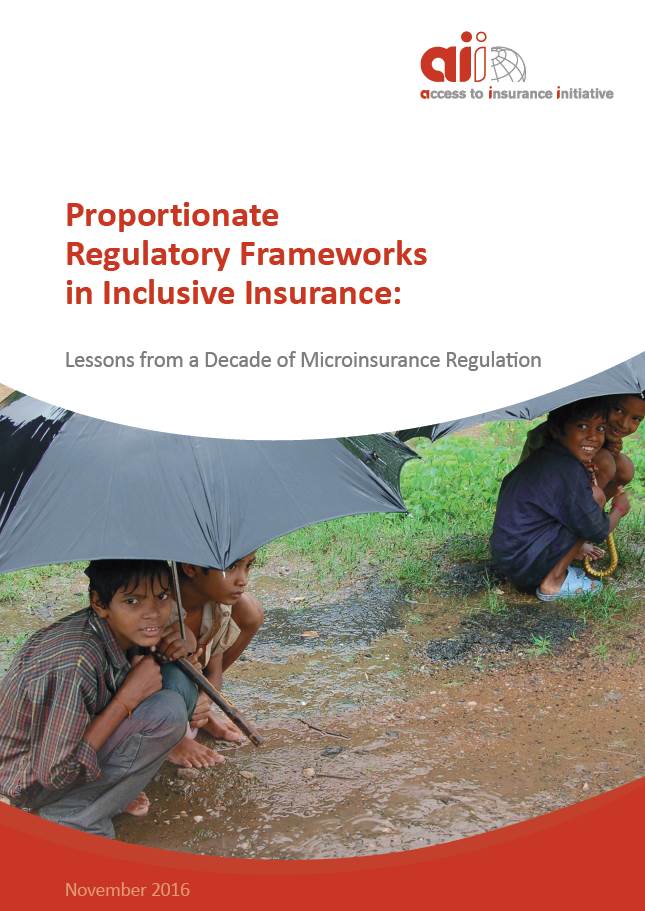 It is slightly over a decade since the first microinsurance regulations were introduced in India in 2005. With at least 18 insurance supervisors having rolled out microinsurance regulations today, the landscape is now vastly different. This milestone publication looks back at what supervisory approaches have been undertaken since then, and draws lessons from the past.
 It also looks forward and examines ongoing and emerging market trends and challenges that insurance supervisors find themselves confronted with, particularly with regard to formalisation, mass distribution and digital technology. Finally, it highlights the areas where supervisory capacity-building will be highly important as inclusive insurance markets worldwide continue to innovate and grow. 
This booklet draws on the intensive discussions at the A2ii-IAIS-CGAP Experts Symposium organised in Washington D.C. in December 2014, as well as the A2ii's experiences engaging with supervisors on the ground. 
Download: a2ii.org/en/report/regulation-and-supervision/proportionate-regulatory-frameworks-inclusive-insurance-lessons 
Access to Insurance Initiative Annual Report 2015-2016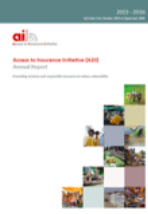 The A2ii released its 2015-2016 Annual Report which covers the period from 1 October 2015 to 30 September 2016.
2016 has been a productive year for the Access to Insurance initiative (A2ii). The Secretariat has organised and participated in more events than ever before, pioneered outreach in new regions as well as strengthened artnerships with supervisors on the ground through the establishment of the first ever regional hub in South Africa.
The report also details how the A2ii, as the IAIS' implementation partner on financial inclusion, has worked with the IAIS to support the implementation of the Insurance Core Principles and supervisory capacity building. The report further sets out how the A2ii plans to respond to the increased demand from insurance supervisors for its support services in the context of an increasingly complex and dynamic insurance market.
Download: https://a2ii.org/en/report/about-initiative/a2ii-annual-report-2015-2016