Back to Newsletters
Newsletters | 2016
Access to Insurance Initiative Newsletter 5/2016
Welcome to our monthly newsletter, where we update insurance regulators and supervisors on the work of the Initiative, inform you about events and publications, and share experiences and learning across jurisdictions.
Visit us at www.a2ii.org
Recent events
A2ii-IAIS 16th Consultation Call on "Regulatory Definition of Microinsurance II"
|19 May 2016|
A definition of microinsurance in regulation is important to ensure that regulation can be tailored to the specific risk profile of micro-insurer businesses and the risk profile of the typically more vulnerable inclusive insurance consumer.
In the 16th IAIS-A2ii Consultation Call, technical experts Martina Wiedmaier-Pfister and Andrea Camargo revisited the topic of the definition of microinsurance in regulation, and discussed the objectives, key elements and challenges of establishing a regulatory definition of microinsurance.
The insurance supervisors from Ghana and Peru presented on the calls and shared their experiences with developing a regulatory definition for microinsurance.
Overall 48 supervisors from 21 jurisdictions participated in four calls that were held in English, Spanish and French.
Discussion evolved around the following points:
The importance of updating and monitoring regulatory frameworks/definitions to incorporate current trends, such as digitalization

The need for explicit delineation of microinsurance regulation for products targeting the low-income segment, as well as the effects that ambiguity has on consumer protection

How demarcating a microinsurance regulatory framework affects insurance penetration trends

How to deal with exclusions and tackle the issue of commercialisation (i.e. the process of making a new product available on the market)
Click here to download the presentations of the 16th Consultation Call in English, French and Spanish. A full report summarising the discussions of all 4 calls will follow soon.
The next Consultation Call will take place on 21 July – topic to be determined. If you have any suggestions for topics please let us know here.
If you are not currently on our mailing list and would like to receive invitations for future calls please send an email to: consultation.call@a2ii.org
 
A2ii-AIO-MIN-IAIS Consultative Forum on 'Innovative products for the emerging consumer'
|11-12 May 2016| Marrakesh, Morocco

Over 70 representatives from supervisory authorities, the insurance industry and intermediary bodies came together at the 6th Consultative Forum on "innovative products for the emerging consumer" in Marrakesh, Morocco. The Forum took place alongside the 43rd African Insurance Organisation (AIO) Conference and General Assembly and was co-organised by the A2ii, International Association of Insurance Supervisors (IAIS), the Microinsurance Network (MIN) and AIO.
The introductory presentation was given by LeapFrog Investment Director Douglas Lacey and MIN Development Coordinator Jenny Nasr, who both provided an overview of the current landscape of microinsurance products, product innovations and related challenges, with a special focus on the MENA region and Sub-Saharan Africa. The first day consisted of a panel on innovative products and client value, and panellists Lydia Bawa from Ghana's National Insurance Commission (NIC) and Stephen Cartwright from the UK's MicroEnsure provided supervisory and intermediary perspectives, respectively. The panel was followed by an interactive plenary 'fishbowl' activity with participants, also on the topic of client value. On the second day participants broke out into two groups, moderated by development consultant Lemmy Manje from Zambia and Peter Wrede of the World Bank, and asked to brainstorm recommendations for successful innovative product development.
Overall the Forum served as a dynamic platform for dialogue and space for lively debates on mobile insurance as well as issues of product innovation and client value. Interesting discussions arose regarding issues of financial education, profit split between parties involved and data protection in relation to client value.
Presentations can be found here, and a Forum report will be made available soon.
 
CIMA-A2ii Workshop on mobile insurance regulation
|16-17 May 2016| Abidjan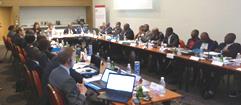 Regulators worldwide are grappling with the challenge of responding to the unique regulatory and supervisory challenges of mobile insurance. In West and Central Africa, the Inter-African Conference on Insurance Markets (CIMA), the regional insurance regulatory body, plans to publish mobile insurance regulations in the near future. In order to help inform the development of this regulation, CIMA in partnership with the A2ii hosted a workshop that took place from 16-17 May 2016 in Abidjan, Cote D'Ivoire. National insurance regulators, central banking authorities and national telecommunications regulators from the region as well as the insurance body CIMA participated in the workshop.
While participants agreed that mobile insurance offers a significant opportunity to scale-up access to insurance and to make inclusive insurance become a reality, they also highlighted the risks for the consumer including lack of consumer awareness and the potential for mis-selling and inadequate cover. Regulating non-insurance entities involved in the insurance value chain is a major challenge for supervisors. Mobile network operators (MNOs) hold a large client bases that insurers can tap into, but the likelihood of risk is increased due to the involvement of non-insurance entities as well as the number of people affected by these risks. However, as MNOs are critical for driving market development a number of participants highlighted the need for flexibility in the regulation to allow for a test and learn approach however at the same time it was also recognised that measures to protect consumers and mitigate the fallout if schemes are discontinued need to be in place. Cooperation across different regulatory authorities is of central importance. The workshop set the tone for the future collaboration between the different supervisory stakeholders who all agreed on the need for a cross sectoral communication platform to be established. A report of the workshop will be available soon.

Microinsurance Learning Session in Egypt - Paving the way for Financial Inclusion
|30-31 May 2016| Cairo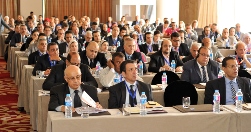 The A2ii actively participated at a Microinsurance Learning Session in Cairo - a multistakeholder learning and discussion forum for Egypt's Microinsurance stakeholders. The event was jointly organized by the GIZ implemented programme for the "Promotion of the Microfinance Sector in the MENA Region" (MFMR), the "Making Finance Work for Africa" (MFW4A) partnership, the Munich Re Foundation and the Microinsurance Network.
The A2ii moderated a panel on the "Role of Regulation in Supporting Microinsurance Market Development", which discussed the status of Egypt's regulatory framework for microinsurance and highlighted good practice examples from Ghana and the Philippines on the regulator's role in reducing barriers for the industry. The A2ii also participated in a panel on Multistakeholder Cooperation together with the Egyptian Insurance Federation, the Alexandria Business Association, the Microinsurance Network and the MFW4A partnership.
The Learning Session was attended by approximately 150 participants from the Egyptian Financial Supervisory Authority, the microinsurance sector, microfinance institutions, distribution channels and development partners.  
Photo credtis: © GIZ/ Youssef Nasr Kamel
A2ii-IADB Project: The Implementation of Regulatory and Supervisory Standards for Access to Insurance in LAC
|August 2012 – May 2016| Peru, Colombia, Jamaica
After 45 months of hard work the A2ii and Inter-American Development Bank (IADB) joint project, aimed at increasing the availability of sustainable microinsurance products in Latin America and the Caribbean, came to an end on May 13th 2016.  The project focused on Peru, Colombia and Jamaica sought to achieve this aim by supporting supervisors to develop regulation conducive to inclusive insurance in their jurisdiction.
The project consisted of three components: Firstly, an initial country diagnostic was conducted analysing the respective conditions of access to insurance in each country. Based on these findings a regulatory development strategy (or 'Regulatory Roadmap') was developed autonomously by supervisors, detailing specific activities to be implemented based on the needs and internal capacities identified. Finally, throughout the project knowledge dissemination events took place to encourage interest and efforts for replication in the region. Implementation was complemented by training and internal capacity-building to ensure project outcome sustainability.
Overall the project was successful in that it enabled supervisors to identify major barriers impeding access to insurance and facilitated dialogue between the stakeholders involved. Through the initiative, each partner authority was able to design their own Regulatory Roadmap and address pressing issues at hand, which resulted in direct impacts in regulatory efforts and policy. In Peru a new draft regulation on microinsurance was published in May 2016 in addition to a new commercialisation regulation. In Colombia, a regulatory proposal has been drafted to promote bank correspondence channels for inclusive insurance, and the SFC is currently studying the need and viability of creating a specific legal categorisation and definition of microinsurance. Finally in Jamaica, a policy paper on microinsurance has been published and the FSC is in the process of drafting the first ever microinsurance regulation in the country.
 
Staffing Update

We are very happy to welcome Hui Lin Chiew to our team. Amongst other activities Hui Lin will be supporting A2ii's regional implementation work in Asia, which includes the identification of potential cooperation with supervisory associations in Asia and development of capacity-building plans for the region.
She is on attachment from the Central Bank of Malaysia (Bank Negara Malaysia), where she has worked on financial sector development policies for 4 years. Her experience covers areas such as microinsurance and microtakaful, talent development as well as regulations on bank branching and licensing. She was a key shaper of Malaysia's proportionate regulatory framework for microinsurance and microtakaful, recently issued as a discussion paper in April 2016.

We are sad that José Aliaga, our Administrative Assistant for the A2ii-IADB project, is leaving the A2ii.
We thank José for his great work on the project and all the hard work to make our Consultation Calls in Spanish happen. It has been an absolute pleasure working with José and we wish him the very best of success and luck for his new projects.