Back to Newsletters
Newsletters | 2018
Access to Insurance Initiative Newsletter 04/2018
Welcome to our monthly newsletter, where we update you on the work of the Initiative, inform you about events and publications, and share experiences and learning on inclusive insurance regulation and supervision across jurisdictions.
Follow us on Twitter @a2ii_org where we serve you news and updates on #inclusiveinsurance.
Recent Events
12th Consultative Forum on InsurTech: rising to the regulatory challenge
20 March, Colombo, Sri Lanka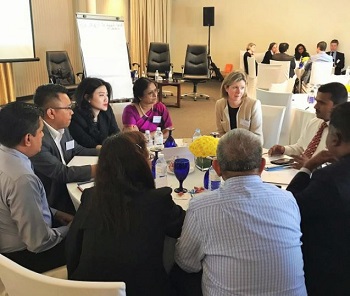 The 12th Consultative Forum on the topic of InsurTech: rising to the regulatory challenge took place on 20 March in Colombo, Sri Lanka gathering high-ranking representatives from the regulatory and supervisory bodies (in Asia), industry, NGOs and other stakeholders. 
InsurTech holds vast potential for improvements in insurance product design, the development of better-tailored products and reducing administrative costs. These efficiency gains can lead to lower premiums, better client servicing and faster payouts. However, InsurTech developments also embody a challenge for regulatory frameworks that must now consider new business models, new actors in the insurance value chain, data protection, cybersecurity and consumer education.
During the forum, innovative InsurTech applications were presented. One of the key messages emerging from the discussion was the necessity for the human touch in advanced data analytics and artificial intelligence application. India and Pakistan presented the specific regulations issued in their countries. It was discussed how the usage of big data and advanced data analytics enables increased segmentation and could lead to a situation where low-income/higher risk customers are priced out of the market and the risk-pool principle of insurance is dissolved.
In order to mitigate the risks and strike a balance between facilitating innovation and protecting consumers, supervisors must monitor and understand the market. Test and learn environments and a close dialogue with the industry are important enablers of enabling innovation in the market to happen.
To find out more about the CF12 read Beyond data - leveraging technology for inclusive insurance post-event news release. The full video of the Forum is available here. 
IAIS-A2ii Consultation Call on Innovation hubs and accelerators
22 March - webinar
On 22 March the A2ii, in collaboration with the IAIS, hosted its 27th consultation call, focusing on the topic of innovation hubs, accelerators, and sandbox arrangements.
When stimulating innovation, there are limits to what a supervisory authority can achieve alone. Inter-institutional cooperation is a powerful tool for responding to new market trends and for creating a safe space for the launch of new initiatives. This call took a closer look at these cooperation platforms and sandboxing arrangements, including case studies on the role of insurance supervisors within them.
The expert presenters invited to present on this webinar were from Cenfri, presenting some of the conclusions of their study on Regulating for Innovation, which can be found here. Supervisors from the Kenyan IRA, the Zimbabwean IPEC, and Mexico's CNSF also gave presentations on the topic. The presentations can be found on the page for the consultation call, which is also where the consultation call report will be published. 
Upcoming Events

13th Consultative Forum on Mobile Insurance and InsurTech: rising to the regulatory challenge
9-10 May, Accra, Ghana
The African Insurance Organisation, IAIS, the Microinsurance Network and the A2ii will hold its 13th Consultative Forum on "Mobile Insurance and InsurTech: rising to the regulatory challenge" on the afternoon of Wednesday, 9th May and morning of Thursday, 10th May 2017 in Accra, Ghana.
This Forum will focus on balancing innovation in the use of new technologies and how the various stakeholders – insurance supervisors, the industry and policymakers – can work to ensure that customers are treated fairly in the providing access to insurance for previously unserved customers.
The Consultative Forum takes place alongside the 45th AIO Conference and General Assembly. Supervisors, policymakers and industry players are highly welcome to attend.
Further information and registration forms are available here. For queries please contact A2ii Sub-Saharan Africa regional coordinator Janice Angove (janice.angove@fsb.co.za).
Inclusive Insurance Innovation Lab – second national workshops
10-12 April, Nairobi, Kenya
17-19 April, Accra, Ghana
17-19 April, Ulaanbaatar, Mongolia
24-26 April, Tirana, Albania
Country teams participating in the Inclusive Insurance Innovation Lab will meet in their respective countries (Albania, Ghana, Kenya and Mongolia) for this 3-day workshop. During the workshop, the teams will revisit the initial outcomes of the Lab process so far and identify areas to take forward. Team members will gain skills in innovation capacity and generate inputs for the Innovation Incubator that will take place in Albania in June. Participation in these workshops is by invitation only.
For more information about the Lab click here.
Supervisory Dialogue on the impact of informality on insurance markets – what supervisors can do
17 May 2018, Rio de Janeiro, Brazil
The objective of this Supervisory Dialogue is to provide a platform for information sharing on the topic of informality on insurance markets. An overview of how informality may affect insurance markets will be provided with an examination of the risks for consumers as well as consideration how informality may impact the structure and functioning of the sector.
The Dialogue will be restricted to supervisors and is expected to bring together high-ranking representatives from across the region and beyond.
There will be simultaneous translation into Portuguese, Spanish and English.
To find out more or to register, please click here.
IAIS-A2ii Consultation Call on Ratios and cost structures in insurance supervision
24 May – webinar
When licensing and supervising insurance products, supervisors need to make judgements on the soundness, sustainability and ethics of the product proposed. This is particularly the case when products are designed as part of an initiative for increased financial inclusion, as those underserved segments often contain economically and socially vulnerable consumers with low familiarity with insurance products. This call will explore some of the approaches in evaluating this, the ratios involved (e.g. loss ratio, claims ratio, renewal ratio, and others) and some concrete examples of what considerations come into play. This call topic is a response to the discussions that took place in the IAIS Implementation Committee meetings in November 2017.

You can register for this call here. 
The IAIS-A2ii consultation calls are topic-focused webinars (via WebEx) for insurance supervisors.