Back to Newsletters
Newsletters | 2014
Access to Insurance Initiative Newsletter: Issue 7 - 2014
Five years after our launch at the IAIS Annual Conference in October 2009, we are proud to be living our mission:
to inspire and support supervisors to promote inclusive and responsible insurance, thereby reducing vulnerability.
In this issue we look back over the past 5 years, feature our panel at this year's 21st IAIS annual conference and show how we're engaging to inform our future agenda.
Visit us at www.a2ii.org

- Access to Insurance Initiative Secretariat Team
 
Celebrating 5 years

Where we've come from since our launch in 2009 is core to what we've become:
Phase 1: Knowledge hub. From the start, our goal was to strengthen the capacity of policymakers, regulators, and supervisors seeking to advance inclusive insurance markets, by promoting sound, effective and proportionate regulation and supervision of insurance markets. We set out to achieve our goal in four ways: (1) building knowledge and learning by facilitating peer exchange through global dialogue events and training seminars for regulators and supervisors; (2) undertaking comprehensive country diagnostics and working with partners to support implementation of the roadmaps stemming from it, (3) contributing to IAIS standard-setting; and (4) advocacy and engagement in global platforms.

Phase 2: Supervisory support. Since 2013, our focus has shifted to utilising the knowledge created in the first phase to support supervisors. We are working with the IAIS to expand on innovative capacity building tools and methods, promote peer dialogue, support learning developed by supervisors for supervisors, strengthen regional coordination, synthesise good practices and measure regulatory impact within IAIS member jurisdictions.One of the ways we're responding to supervisors' needs is through our monthly supervisor-only Consultation Calls, where experts present on a topical theme and supervisors exchange learning and challenges.

Supervisors respond to call for action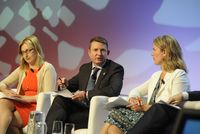 The 21st IAIS Annual Conference was true to form – jam-packed with meaningful discussions and debates. For us, the highlight was the panel on inclusive insurance, facilitated by our Chair, Jonathan Dixon. A2ii Exective Director Marike Brady was represented on the panel alongside Anna Zelentsova, the Russian co-chair of the G20 GPFI, Sriram Taranikanti, Executive Director of IRDA India and Pieter Wink, Microinsurance Manager at Achmea, the Netherlands. The panelists discussed recent trends in inclusive insurance, financial education and innovative approaches to market conduct.
The panel was especially well-received following the inspiring call to action by Her Majesty Queen Máxima of the Netherlands, in her capacity as United Nations Secretary General's Special Advocate for Inclusive Finance for Development. Click here to watch the interview.

IAIS and A2ii activities: opportunitiy to tell us what you need!
The Access to Insurance Initiative, together with the IAIS, is organizing regular Consultation Calls to provide a platform for supervisors to exchange and discuss current regulatory and supervisory developments and trends around access to insurance.
Our next call will focus on receiving your input on the IAIS and A2ii activity plans.
The Consultation Call will take place on Thursday 20 November 2014 at 4pm Central European Time (CET).
Please register until by sending an email to consultation.call@a2ii.org. Kindly indicate if you wish to participate in the 10am or 4pm call and the questions you would like to discuss around the topic of "IAIS and A2ii activities".
 
Capturing lessons for the future
In early December, the A2ii, CGAP and the IAIS are hosting a Specialist Symposium in Washington DC titled "Proportional Regulatory Approaches in Inclusive Insurance Markets - Capturing what we Learnt for the Future".
The objective is to carve out future strategies for proportionate, truly enabling regulatory approaches in inclusion. Over almost a decade of regulating inclusive insurance markets, supervisors in pioneering jurisdictions have learnt important lessons that we would like to distil and share. The symposium provides an opportunity for insurance supervisors, development agencies, donors and regulatory experts to discuss the key lessons learnt over the past ten years and identify specific topics where guidance is needed. The outputs, which will be published in a booklet format, will inform our agenda as we work with the IAIS to respond to supervisors' needs.
A2ii has launched a pre-symposium survey of the regulatory landscape and lessons around inclusive insurance. If you have not received an invitation and wish to participate, please send an email to teresa.pelanda@a2ii.org
In brief
Coming up
A2ii-Toronto Centre-CIMA Microinsurance Training Program for Insurance Supervisors in Africa, 24-28 November, Libreville, Gabon. Register here
 
A2ii-CGAP-IAIS Specialist Symposium, Washington DC, 2-3 December 2014
Recent events
The 3rd IAIS, MIN and A2ii Consultative Forum titled Mass and Micro: Consumer Protection Challenges in Inclusive Insurance Markets, held back to back with the 10th Annual Microinsurance Conference, Mexico City.
 
6th Annual AFI Global Policy Forum (GPF), 9-11 September 2014, Trinidad & TobagoThe A2ii facilitated a panel on the role of regulators as drivers of inclusive insurance, as well as the role that mobile technology plays in insurance market development.
Panelists included regulators from Fiji, Peru and South Africa.
Watch this video for highlights from the GPF
Interesting reads
A2ii Technical Notes
We recently launched a new series of short Technical Notes to summarise our key Technical Documents:

Technical Note 1: "Evolving microinsurance business models and their regulatory implications "
Technical Note 2: "Regulatory approaches to inclusive insurance market development"
Technical Note 3: "Self-assessment and peer review on regulation and supervision supporting inclusive insurance markets"
Technical Note 4: "Training module on regulation and supervision supporting inclusive insurance markets"
A2ii Briefing Note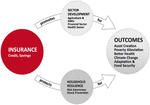 We recently published the briefing note "Inclusive insurance protects households and promotes economic growth". The note describes the role of insurance for development and the concept of pathways to development. On the promotion pathway insurance promotes development objectives such as private, agricultural and financial sector development; on the protection pathway it fosters household resilience as shown in this graphic to the right:
The note shows how the combination of the two pathways impacts people's lives through wealth creation and poverty alleviation, better health and food security and identifies implications for policy makers and insurance regulators.
Share
Do you have an experience to share? Click here to let us know of any new microinsurance regulatory developments or lessons in your jurisdiction, or join our LinkedIn group and post discussion topics or questions.