Back to Newsletters
Newsletters | 2017
Access to Insurance Initiative Newsletter 11/2017
Welcome to our monthly newsletter, where we update you on the work of the Initiative, inform you about events and publications, and share experiences and learning on inclusive insurance regulation and supervision across jurisdictions.
We have a new look! Visit us at www.a2ii.org, explore our knowledge hub, check out our upcoming events and ongoing projects and find what you need fast. 
Recent Events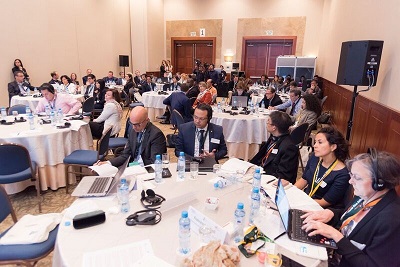 11th Consultative Forum on Scaling up insurance as a disaster resilience strategy for smallholder farmers in Latin America
6 November, Lima, Peru
This year's third and last Forum on this subject gathered over 60 high ranking representatives of the insurance industry, regulatory and supervisory bodies coming from 22 different countries. 
The underlying objective of the Forum was to foster sound policymaking for the development and scaling up of agricultural insurance across the region. The panellists focused on different roles and levels of intervention among the industry, the supevisors and the aggregators and the importance of open communication and strong collaboration between them.
The following key messages emerged from the discussion:
Open dialogue and cooperation among all stakeholders is vital';
A multi-stakeholder approach is essential for achievement of scale;
Governments' role needs to extend beyond mere payment of premiums and support the creation of a conducive ecosystem for insurance, including things such as:
provision of public goods such as data and information systems;
support for research and development; and
education and capacity building for the farmers, distributors and insurers.
Public Private Partnerships are an important strategy for developing affordable and sustainable agricultural insurance products;
The support of the insurance supervisor and of government policies is essential;
Technology can play a very important role in driving innovations in product development (e.g. use of satellites and scientific agencies) and facilitating improvements in premium and claims payment processes;
More promotion of financial literacy programmes creating customer awareness and understanding of agricultural insurance and particular products is needed;
Ongoing monitoring of the results is vital.
Here you can watch a 3-minute video featuring the panellists' key messages.
For the recording of the entire event click here. 
The event was co-organised by the Microinsurance Network, the A2ii and the IAIS and was held alongside the 13th International Microinsurance Conference co-organised by the Munich Re Foundation and the Microinsurance Network, and hosted by the APESEG.
A2ii hosts panel on digital technologies and supervisory approaches at the 13th International Microinsurance Conference
8  November, Lima, Peru
How to regulate in order to foster responsible innovation for market development?

Creating flexibility in regulation in order to facilitate innovation is key and it is necessary for the supervisors to strike a balance between facilitating innovation, increasing inclusiveness and protecting policyholder. Stefanie Zinsmeyer of the A2ii facilitated the panel and set the framework for what was to come:
The Fourth Industrial Revolution, or the Digital Revolution is here with its challenges and opportunities. It is largely expected to drive economic growth with increased efficiency and productivity. However, it is expected that innovation and new technologies will disrupt existing industry value chains. Carlos Belloni, former COO of Zurich for Latin America, spoke about possible ways that the fourth industrial revolution will disrupt the insurance industry questioning whether the industry and the regulators were ready for this.
@A2ii_org @stzinsmeister @IntMicroinsConf @NetworkFlash - will I be unemployed soon or more productive as a microinsurance researcher? Can I insure against this risk? Will I still have health cover? Half joking half not! #4thindustrialrevolution #13thIMC pic.twitter.com/ZkJSp6H4Fi

— Jaco Weideman (@jaco_weideman) November 9, 2017
Denise Garcia of Mexico's supervisory authority CNSF, shared the insights from the IAIS report on FinTech developments in the insurance industry. Although the working group did not yet conclude which trend will materialize, they concluded that regulatory oversight will become more difficult.
Other topics included:
The support that IAIS offers to supervisors and on the draft Application paper on digital technologies in inclusive insurance delivered by Peter van den Broeke from the IAIS Secretariat,
Ghanaian experience with Mobile Insurance and their recently issued mobile insurance regulation by Kofi Andoh from Ghana's supervisory authority National Insurance Commission,
Phiwa Nkambule from Riovic, an InsurTech start-up from South Africa presented their flexible microinsurance for South Africans at 50c a day targeting millennials along with the regulatory challenges they faced.
Greater availability of big data and new data analytics hold a vast potential for improvements in product design and the development of better-tailored products and servicing of customers. Supervisors have to strike a balance between facilitating innovation, increasing the inclusiveness of the insurance sector, and maintaining the conditions for a fair, safe and stable insurance sector for the benefit and protection of policyholders.
More insights from the panel as well as presentations can be found here.
Association of South East Asian Nations (ASEAN) Insurance Regulators Meeting
22 November, Vientiane, Laos
The A2ii presented on the work and support services provided by the A2ii to this regulators only meeting of ASEAN Insurance Regulators.  It is the first time that the A2ii has been invited to directly engage with this forum. The occasion provided a good opportunity for the A2ii to further strengthen its contacts in the region as well as explore opportunities for future collaboration with the ASEAN Secretariat. Supervisors as well as ASEAN Secretariat welcomed the presentation made by the A2ii and s the opportunity to work together more closely in the future.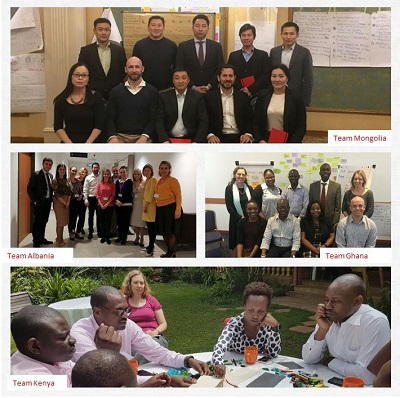 First national workshops for the Inclusive Insurance Innovation Lab
27 November 2017
The kickoff workshops for the Inclusive Insurance Innovation Lab took place in the four participating countries (Kenya, Ghana, Mongolia and Albania) over the past three weeks. In each of these countries, the country teams consisting of the insurance supervisor as well as 6-7 other key stakeholders of the inclusive insurance sector (representing the supply- and demand-side, as well as intermediaries) came together in a two-day workshop to better understand the lab methodology, grow together as a country team and to start discussing priority areas for innovation and learning. At each workshop, country team members committed to specific actions that they will undertake in the run up to the first international workshop in February, during which all country teams will come together for the first time.
ASSAL Capacity Building Regional Seminar for Latina American Insurance Supervisors
29 November – 1 December, Montevideo, Uruguay
The event brought together supervisors from Argentina, Paraguay, Chile, El Salvador, Guatemala, Panama, Peru, Mexico, Uruguay and Rhode Island, and Latin American industry representatives. The A2ii participated in the event and organised a meeting with supervisors alongside to discuss a long-term joint work plan in Latin America.
25th Consultation Call on 'Supporting responsible MSME insurance'
16 November 2017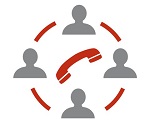 Micro, small and medium enterprises (MSMEs) make up the vast majority of enterprises and make a significant contribution to employment and economic growth. However, especially for micro and small businesses, insurance products suited to their specific demands often do not exist. For both social and economic reasons, it is in policymakers' and supervisors' interest to scale up the provision of appropriate and responsible insurance products amongst MSMEs. This means that it is important to better explore these segments to find out and understand their characteristic requirements, which blend personal insurance and business insurance products. 
This call identified what the specific insurance needs are of MSMEs, and what regulatory and supervisory factors can stifle or stimulate the market for products targeted at MSMEs. We saw what the global trends are, and looked at case studies to illustrate the principles at work. We also complemented this with first-hand accounts from jurisdictions with experience on the topic. The material on this call will help supervisors and regulators consider whether there are any steps that their authority could take to help stimulate the provision and uptake of good quality MSME insurance.
The presentations used can be found on the A2ii website here, and the written report of the consultation call will be published shortly.
Upcoming events
26th IAIS-A2ii Consultation Call on Index Based Insurance
18 January 2018
On the first call of 2018 we will explore current practices with regards to index based insurance. Keep an eye on our events page to learn more about the call. 
IAIS-A2ii Regional Meeting for Sub-Saharan African insurance supervisors
30th and 31st of January 2018, Pretoria, South Africa
This meeting is intended to set the agenda for A2ii-IAIS capacity building activities in Sub-Saharan Africa in 2018. The activities that will be presented for discussion at the meeting are taken from the Regional Implementation Plan for the implementation of the IAIS Insurance Core Principles developed in 2017. 
The programme is jointly organised by the Access to Insurance Initiative (A2ii), the International Association of Insurance Supervisors (IAIS) and will be hosted by the Financial Services Board (FSB). A meeting of Association of Africa Insurance Supervisory Authorities (AAISA) will be held along-side the AIS-A2ii Regional Meeting on 1 February 2018.
Recent Publications
24th A2ii-IAIS Consultation Call Report on 'Supervising InsurTech'
Announcements
Staffing Update

The A2ii Secretariat warmly welcomes Ms Maria Döll as our new Office Manager.  Before joining the A2ii, Maria worked in the private sector for different international companies, mainly in the area of international sales and project assistance. Maria will be responsible for administrative and back-office procedures.